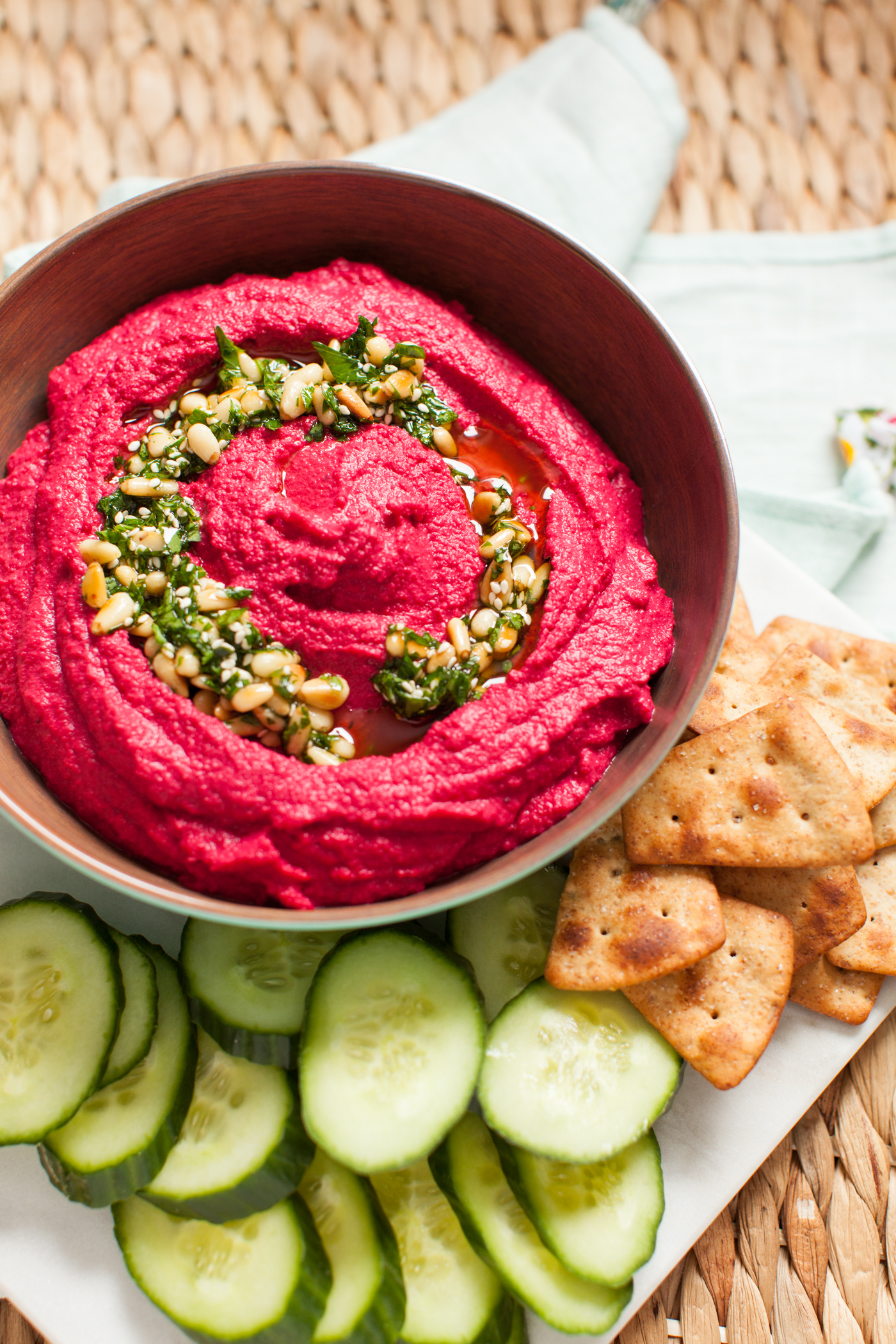 This bright pink beet hummus is just perfect! Smooth and creamy topped with toasted pine nuts, sesame seeds and parsley! I paired mine with cucumbers and Kashi 7 Grain Sea Salt crackers. It is the perfect little appetizer to snack on during the week or weekend.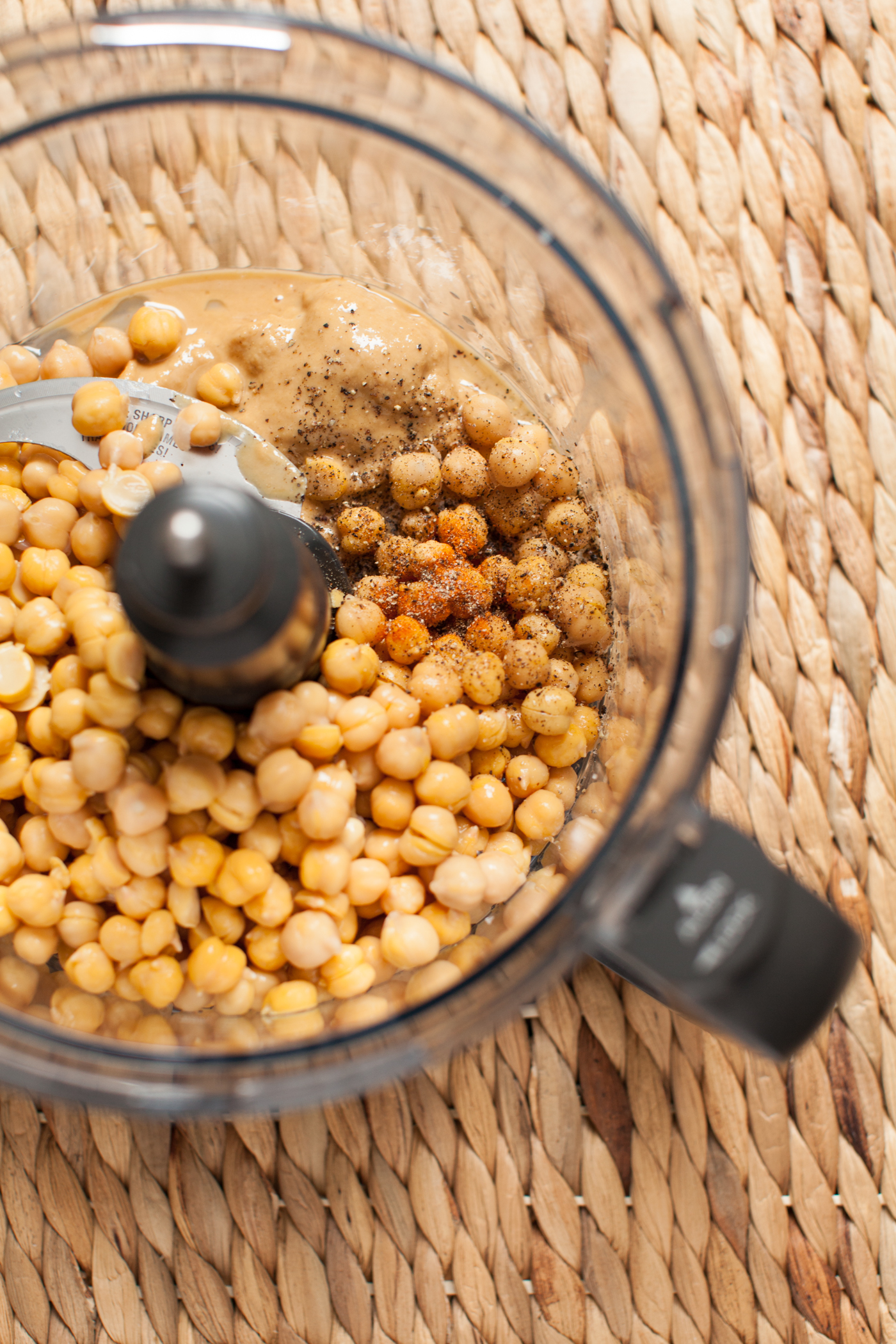 I love this Breville food processor! It comes with a wide assortment of attachments too!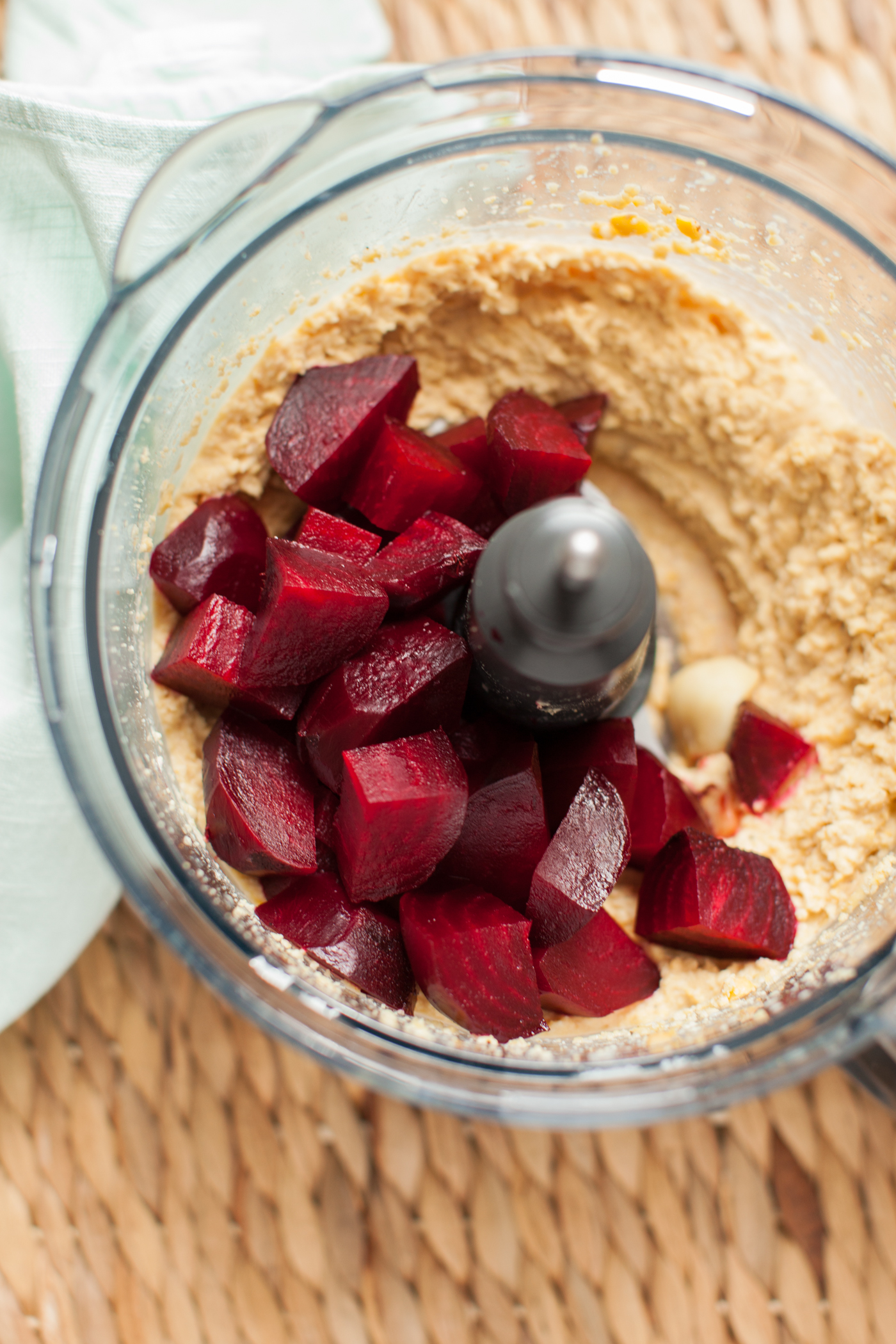 Ingredients needed:
red beets
garlic cloves
garbanzo beans, drained, rinsed & peeled
tahini
lemon juice
water
cayenne pepper
balsamic vinegar
extra virgin olive oil
A few pinches of salt & pepper
Topping:
pinenuts
sesame seeds
parsley
olive oil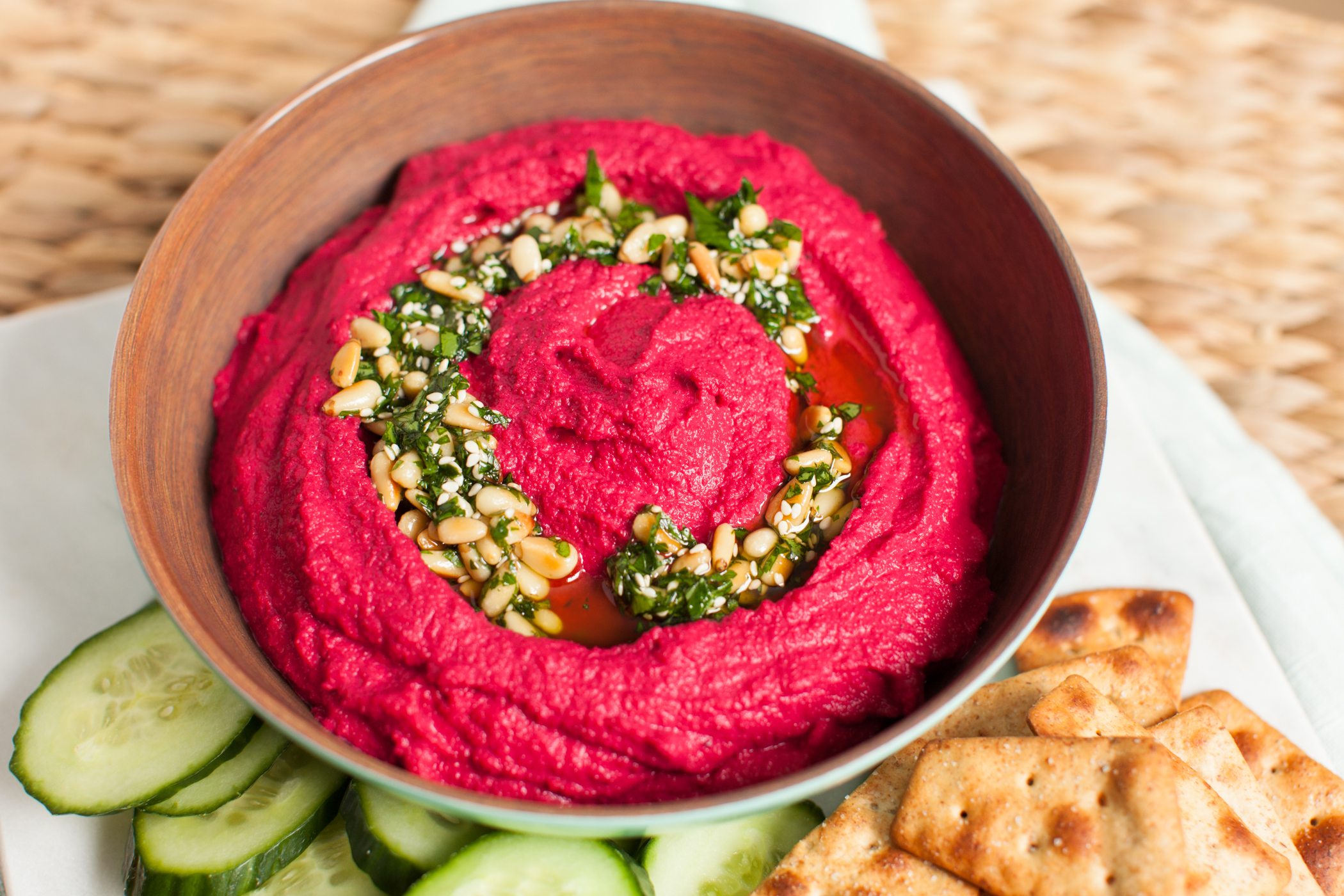 To make this awesome and bright hummus, start by preheating the oven to 400 degrees. Wrap beets and garlic in foil and place on a baking sheet.
Roast for 45 minutes, until beets are soft and tender. Allow to cool, then peel the beets and remove skin from garlic.
Using a food processor, add garbanzo beans, tahini, lemon juice, water, cayenne pepper and a pinch of salt and pepper to the bowl. Puree until smooth, scraping down the sides with a rubber spatula. Puree in the beets, garlic and balsamic vinegar.
With the food processor running, add the olive oil and continue to puree for at least 5 minutes.
Season with salt and pepper to taste. Transfer to a serving bowl & place hummus in fridge until ready to serve.
The topping is just amazing with this hummus! Combine the pine nuts, sesame seeds, parsley and olive oil in a small bowl. Top the hummus when ready to serve.
After I drain & rinse the garbanzo beans, I peel the thin shell off each one. This ensures a really smooth hummus (optional)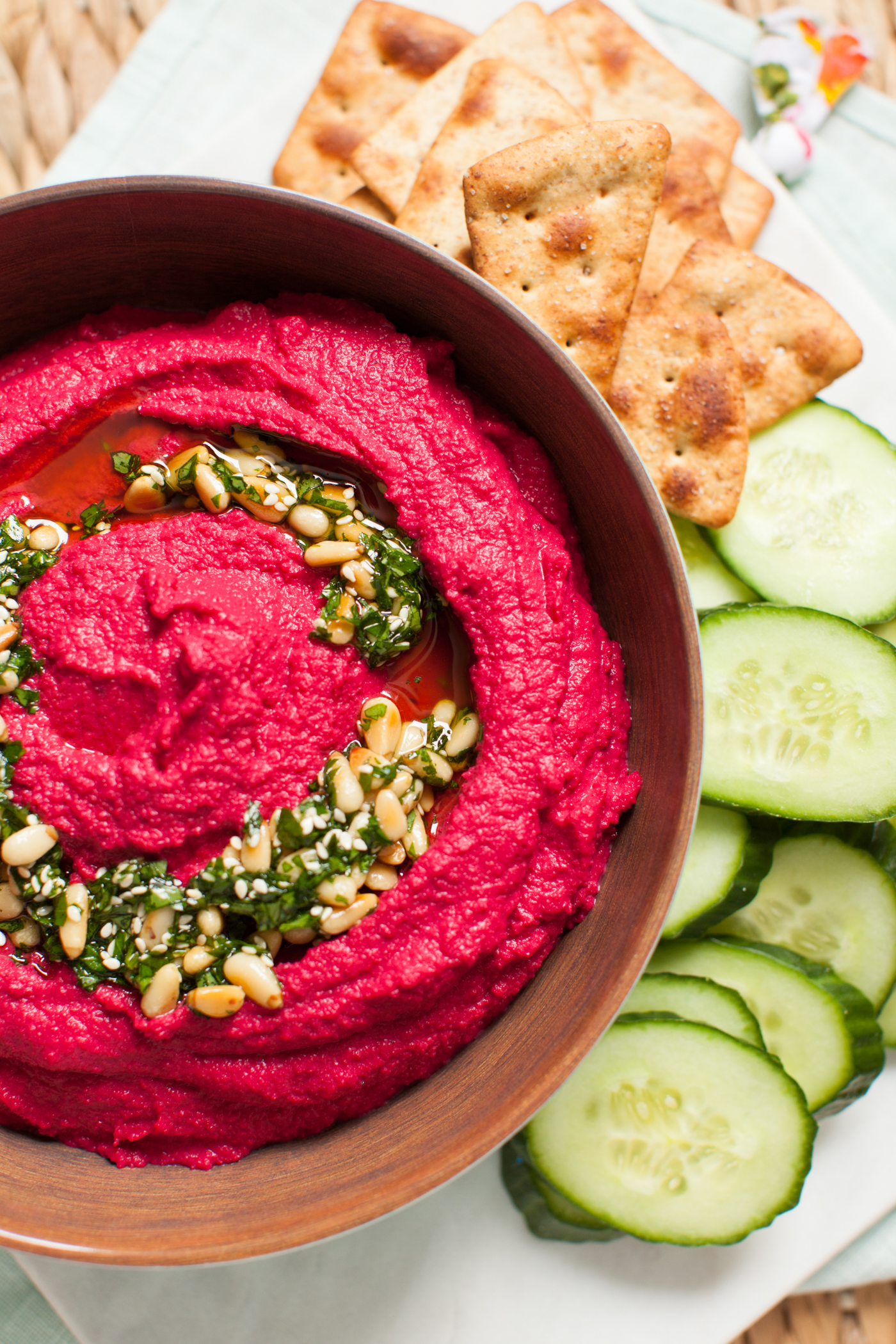 Roasted Beet Hummus
Cuisine:
Roasted Beet Hummus
Roasted Beet Hummus
Ingredients
3 medium red beets
3 cloves of garlic
3 cups chickpeas/garbanzo beans, drained, rinsed & peeled*
¼ cup tahini
Juice of ½ lemon
⅓ cup water
¼ teaspoon cayenne pepper
1 tablespoon balsamic vinegar
⅓ cup extra virgin olive oil
A few pinches of salt & pepper
Topping:
⅛ cup pinenuts, toasted
¼ teaspoon sesame seeds, toasted
½ tablespoon parsley, chopped
1-2 tablespoons of olive oil
Instructions
Preheat the oven to 400 degrees. Wrap beets and garlic in foil and place on a baking sheet.
Roast for 45 minutes, until beets are soft and tender. Allow to cool, then peel the beets and remove skin from garlic.
Using a food processor, add garbanzo beans, tahini, lemon juice, water, cayenne pepper and a pinch of salt and pepper to the bowl.
Puree until smooth, scraping down the sides with a rubber spatula.
Puree in the beets, garlic and balsamic vinegar.
With the food processor running, add the olive oil and continue to puree for at least 5 minutes.
Season with salt and pepper to taste.
Transfer to a serving bowl & place hummus in fridge until ready to serve.
For the topping, combine all ingredients in a small bowl.
Top the hummus when ready to serve.
Serve with your favorite veggies, crackers & sides.
*After I drain & rinse the garbanzo beans, I peel the thin shell off each one. This ensures a really smooth hummus (optional)