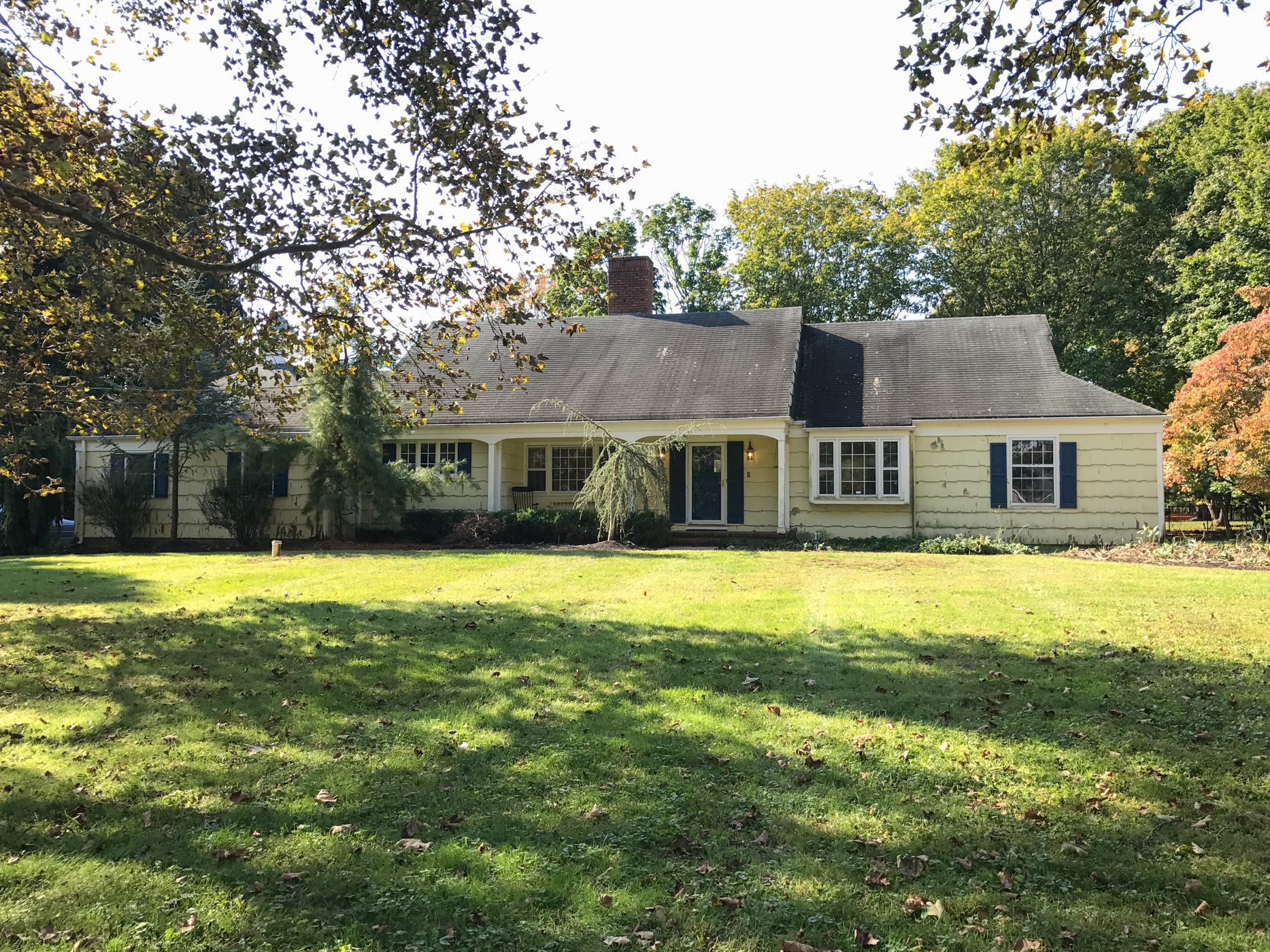 On September 2, 2016 we purchased our newest home! It took us close to 2 years to find the perfect match for us. You read that right….2 years! We looked at so many homes, so many different homes! Homes that needed minor changes to make it our own, homes that needed no work, or tons of work, homes in country settings and homes by the shore! We would have loved one by the ocean, or on an inlet with a dock. But when we found this 1965 ranch style home, we knew it would be the perfect match. We loved the location and area, not to mention the beautiful property that came along with it. We knew it needed a lot of work, including a new roof and windows. Everything on the home was original, from the 60's. We knew it had potential! (wait until you see what it looks like today!!!)
Our wedding was the following day (9/3/16), then we left for our Oahu trip (which was awesome, if you haven't already heard) for 3 weeks. Once we arrived back to New Jersey, we went right to our home. We couldn't wait to see it… Hadn't changed one bit. Just a few extra leaves had fallen from our oak trees.
We walked around, looked at all the work it needed, we both knew we had a long reno ahead of us. I'm not quite sure we did what any other newly married couple would do. Taking on a huge renovation was just downright nuts! We knew we wanted to add a few additions onto this home, we needed a little extra space. I browsed Pinterest for days and days and days, looking for homes with charm, farmhouse style, bright and airy lit rooms. I knew I wanted to make this home one of a kind. I'll be honest, some inspiration came from the gorgeous HGTV 2015 Dream Home in Martha's Vineyard. (I've always loved dormers!)
After a grueling 4 months, we finally received our permits to begin working on this house! We started on February 4th! The progress we have made in just 3 months is incredible! I can't thank Jake and my father enough for all their hard work over these last three months!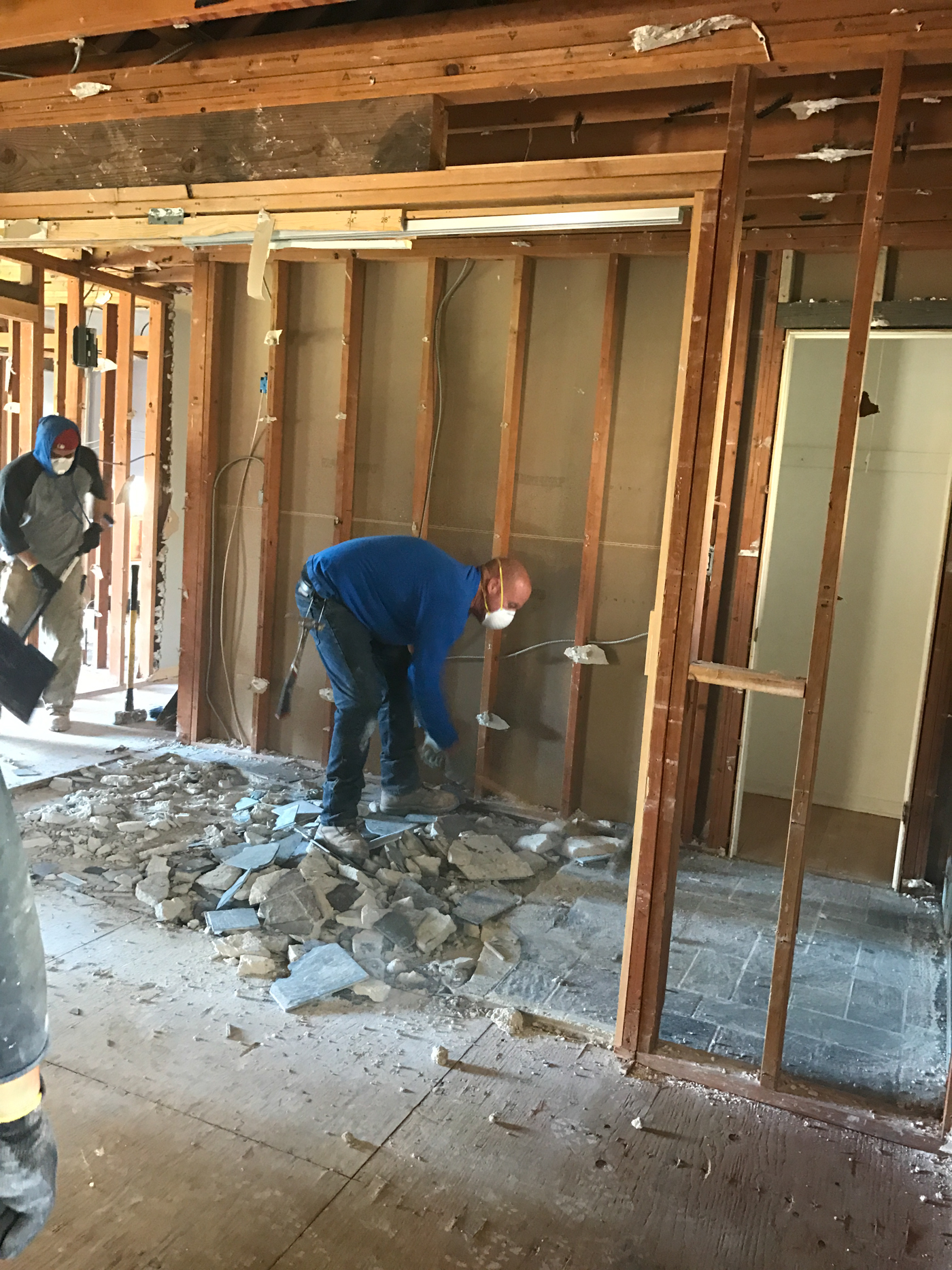 We started with the demo! The entire house was removed of flooring, walls, etc. That's Jake ripping up the floor!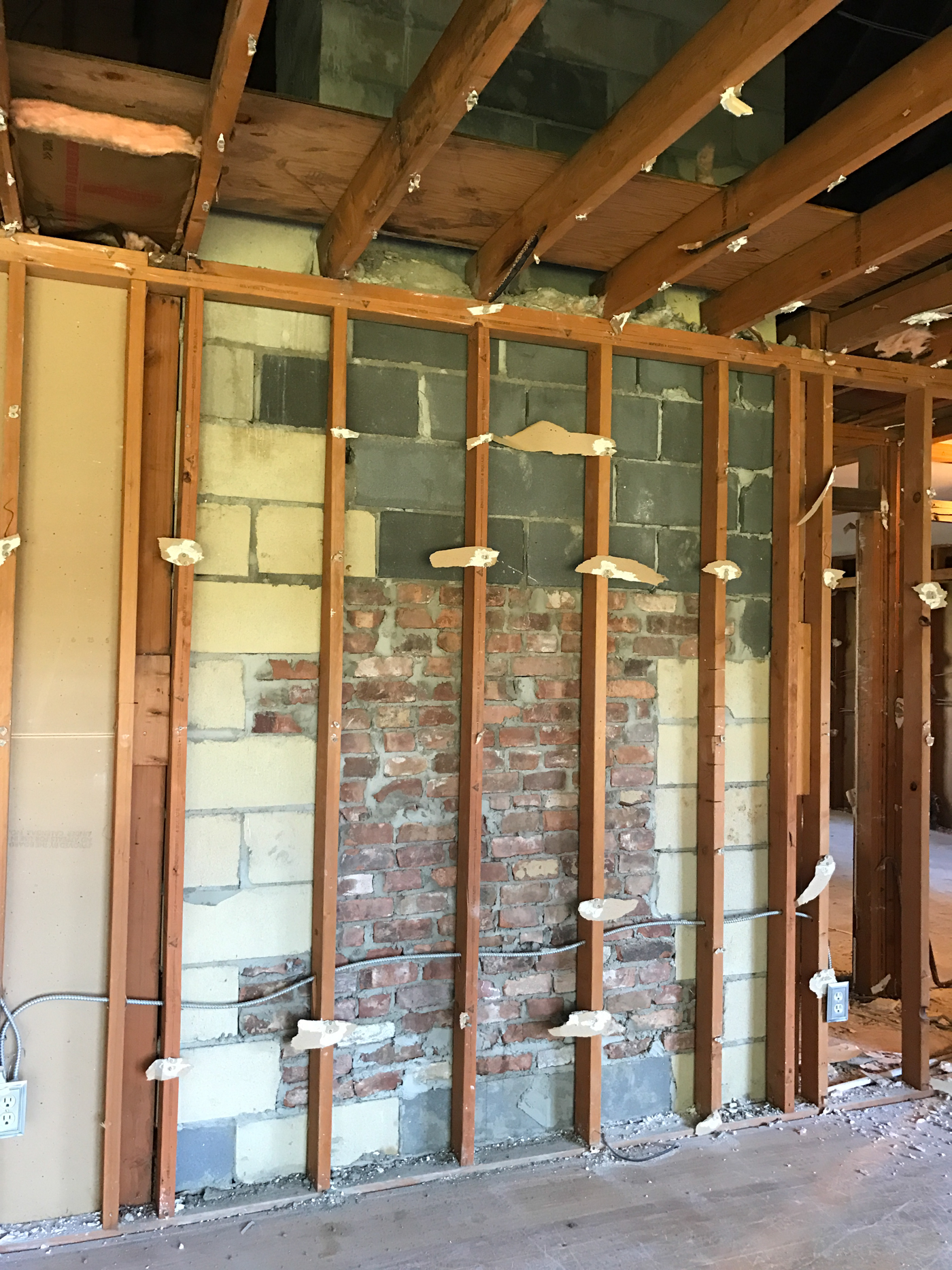 We then began digging for our footings for our additions! My father is in the machine!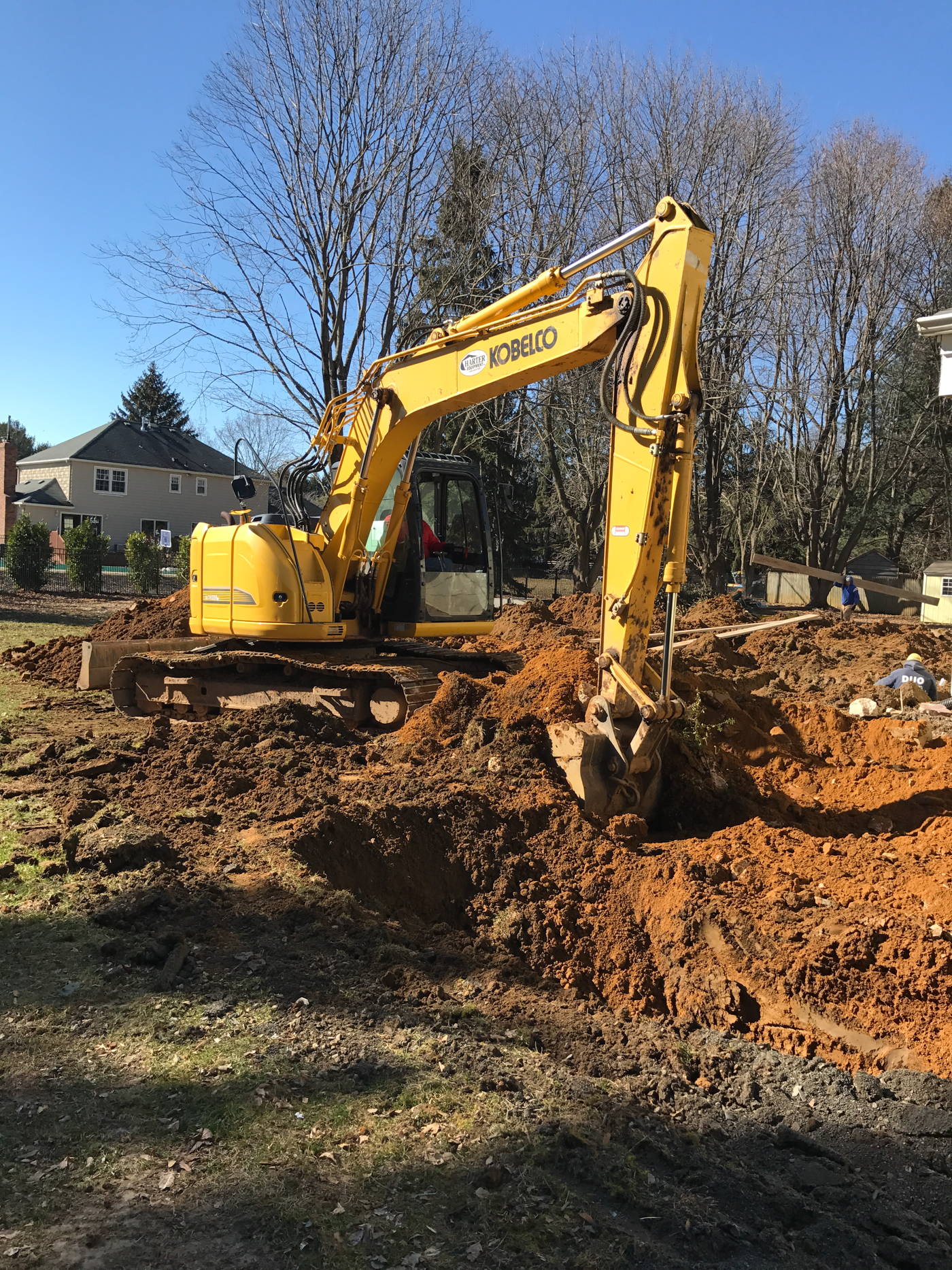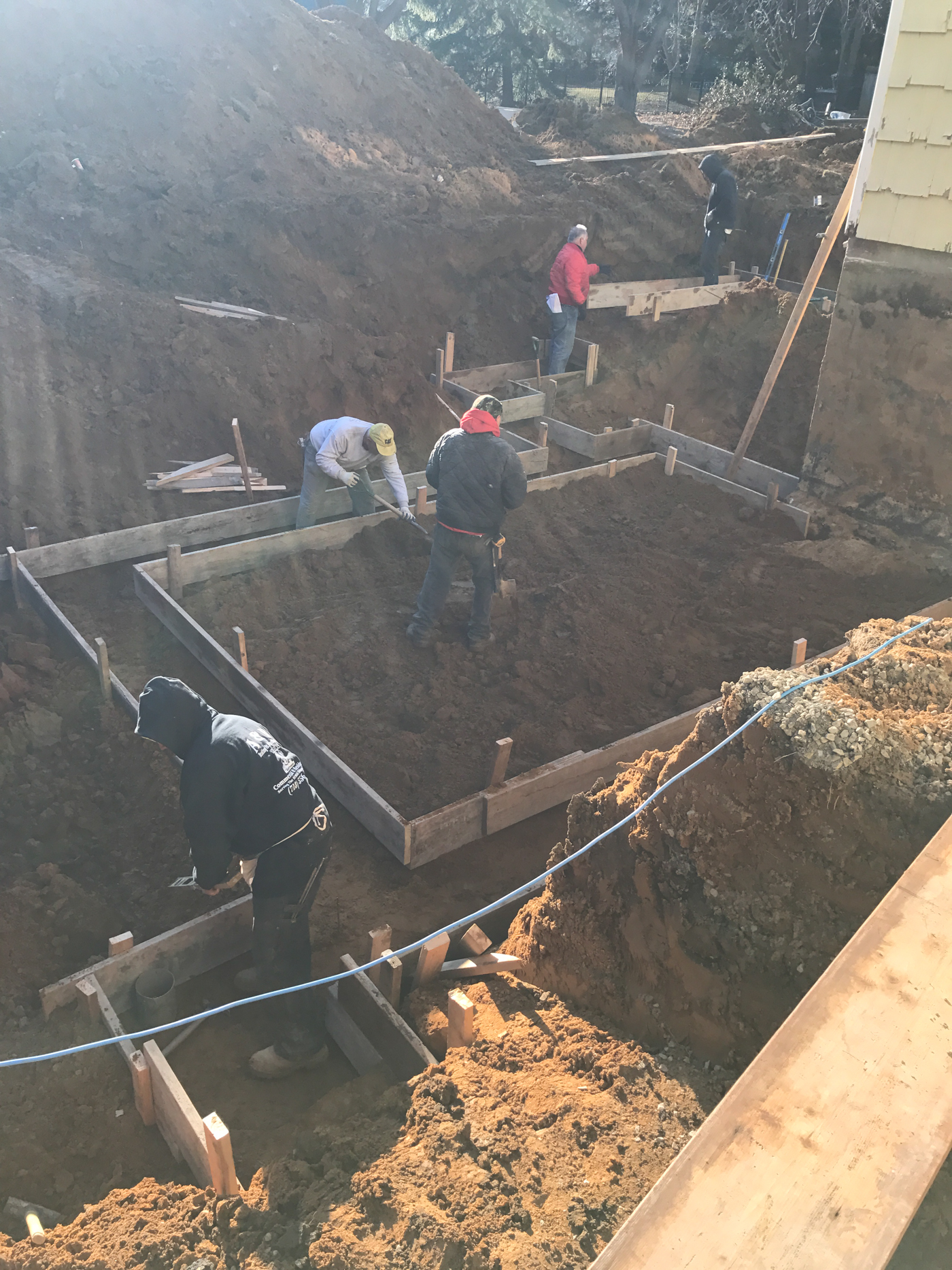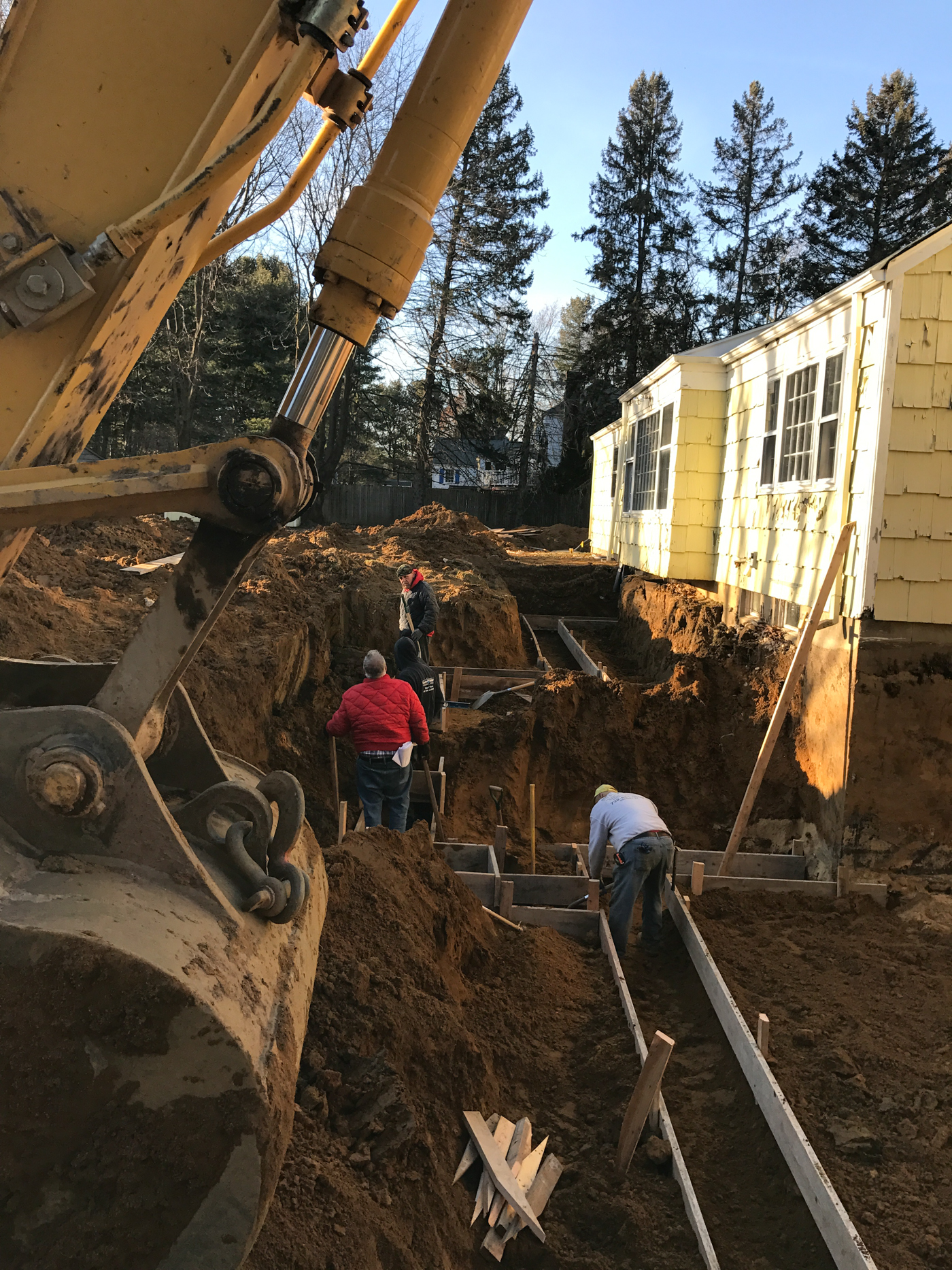 The front porch was falling apart, so that needed to be demo'd! But we had huge plans for this anyways!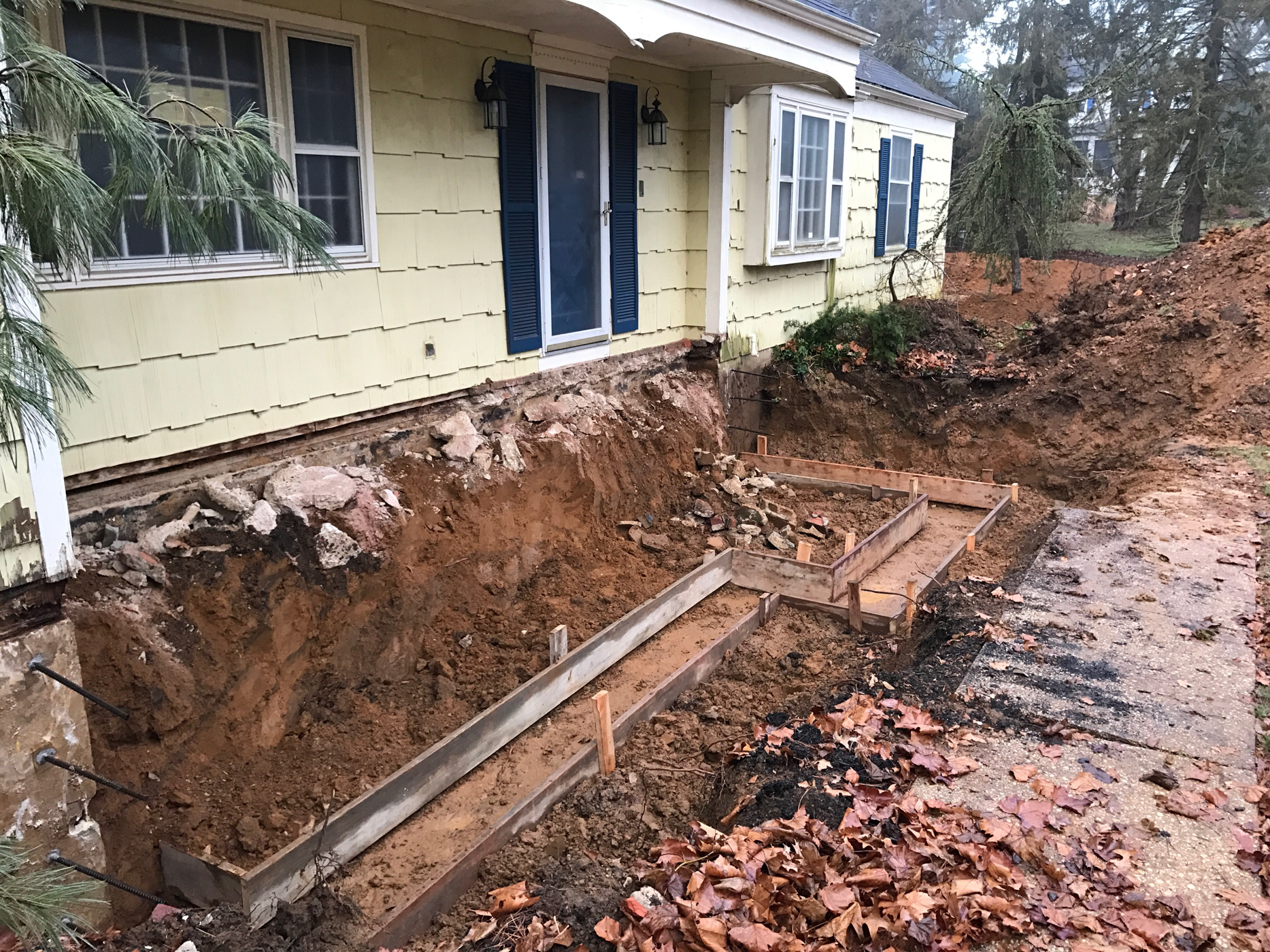 We then began to pour the concrete for the footings!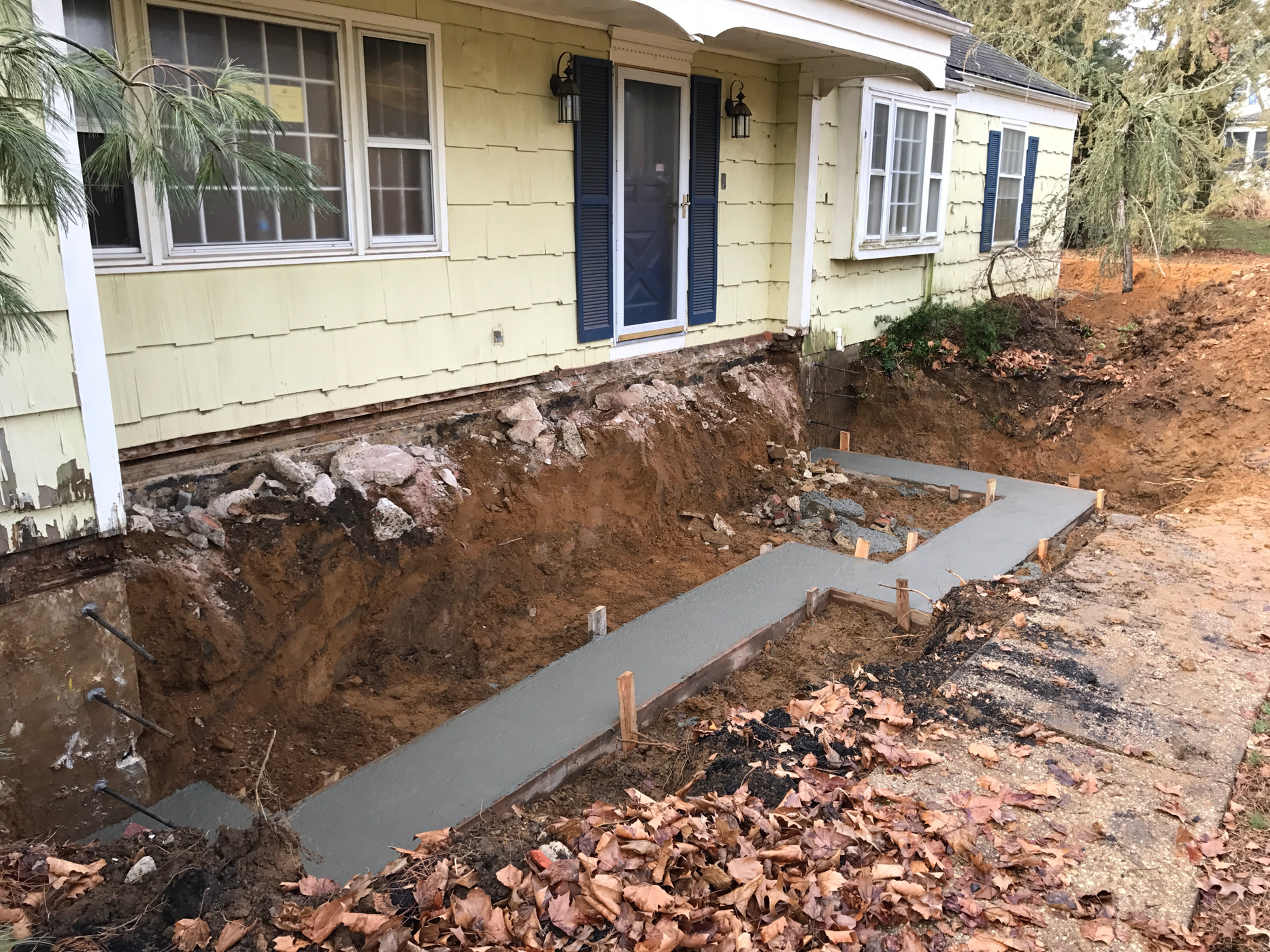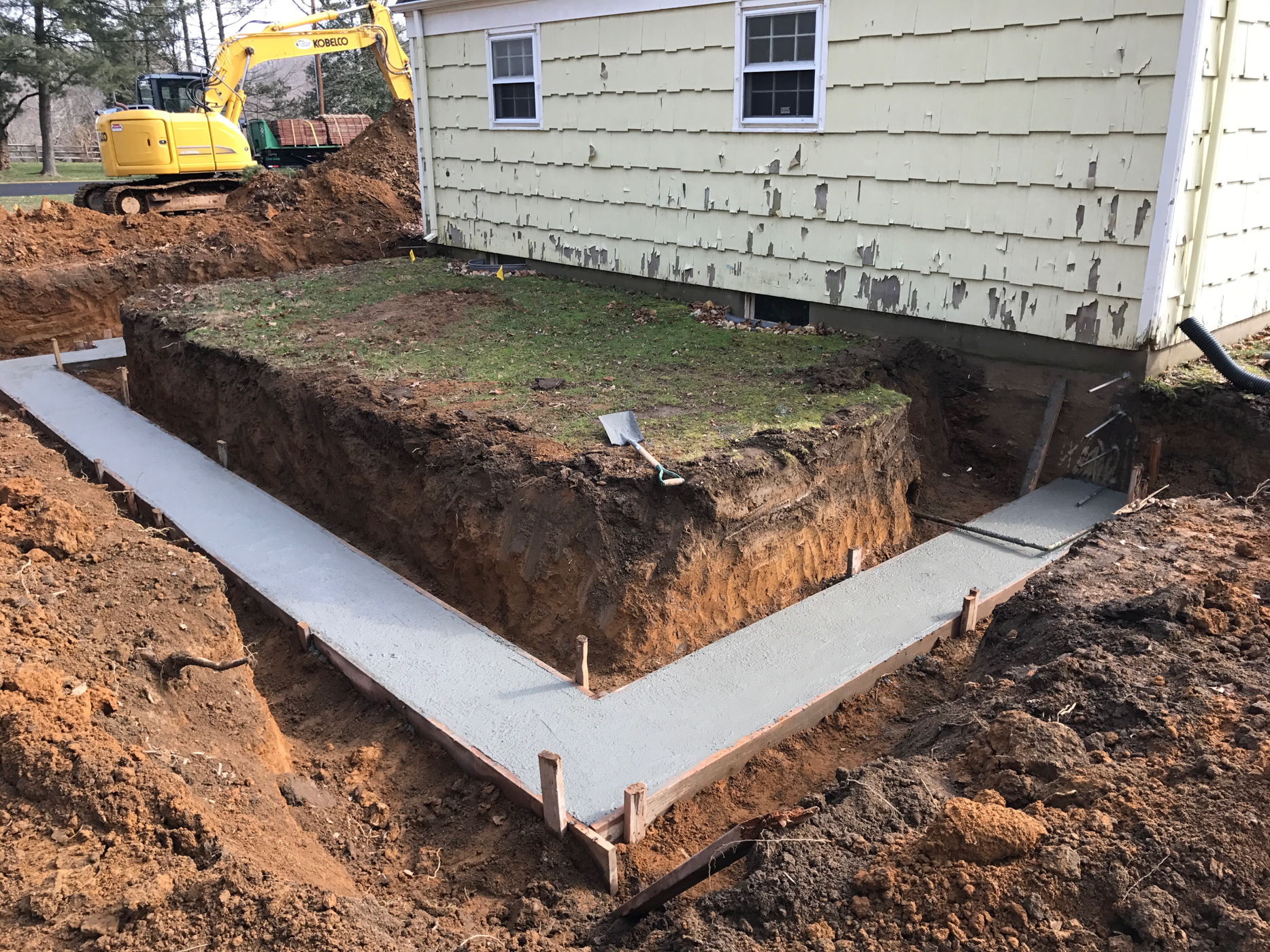 The foundation walls were put up and poured!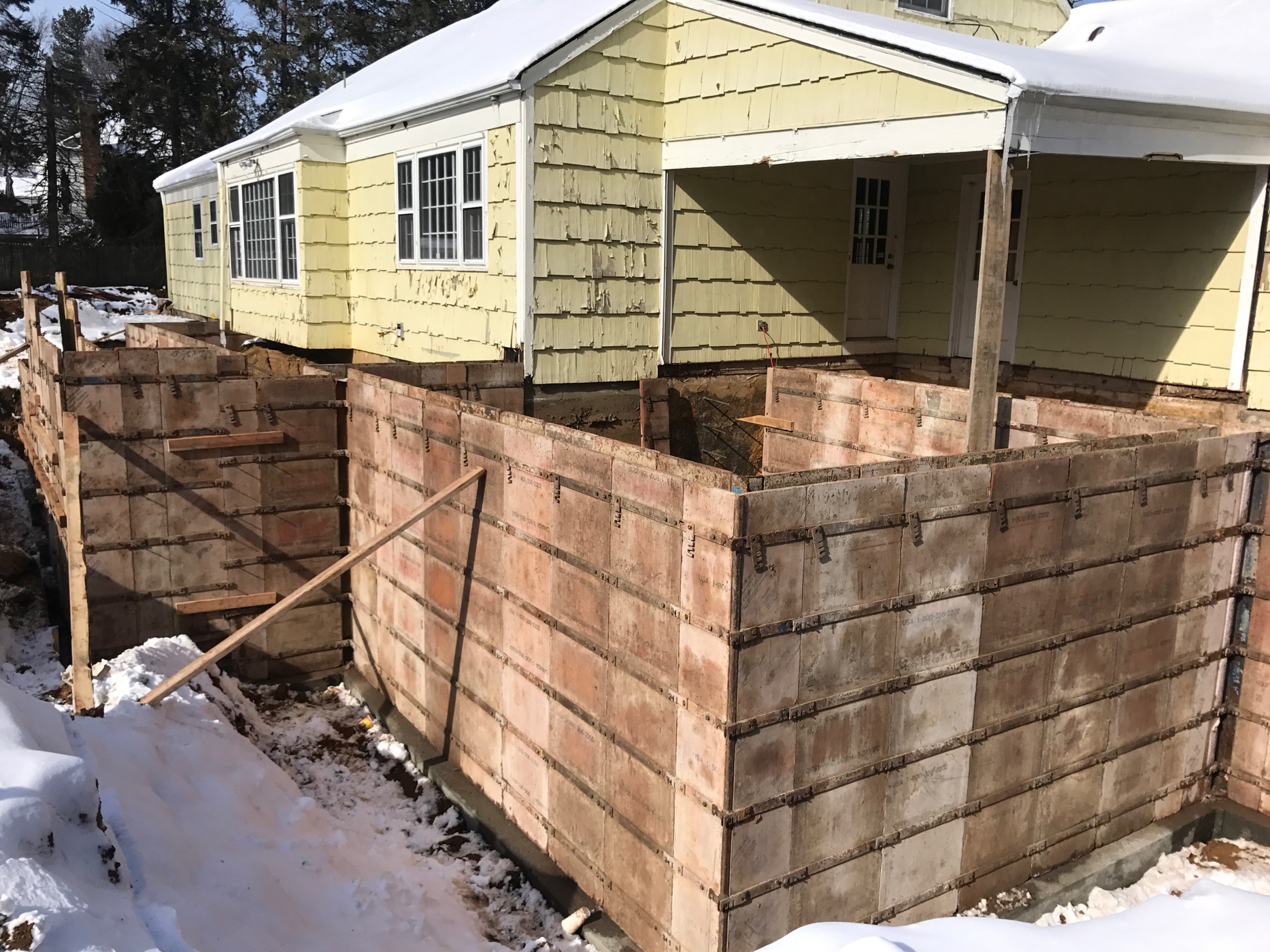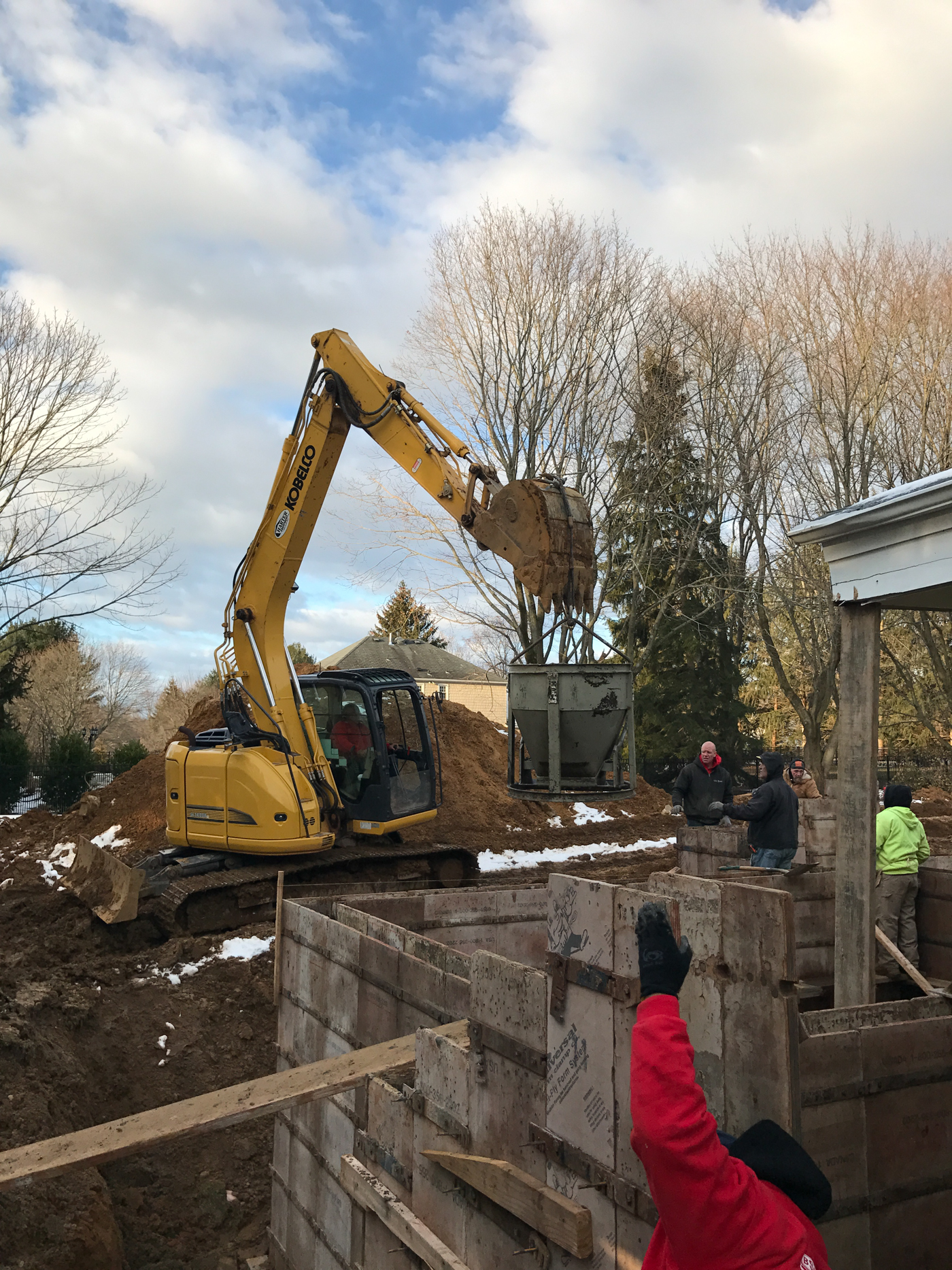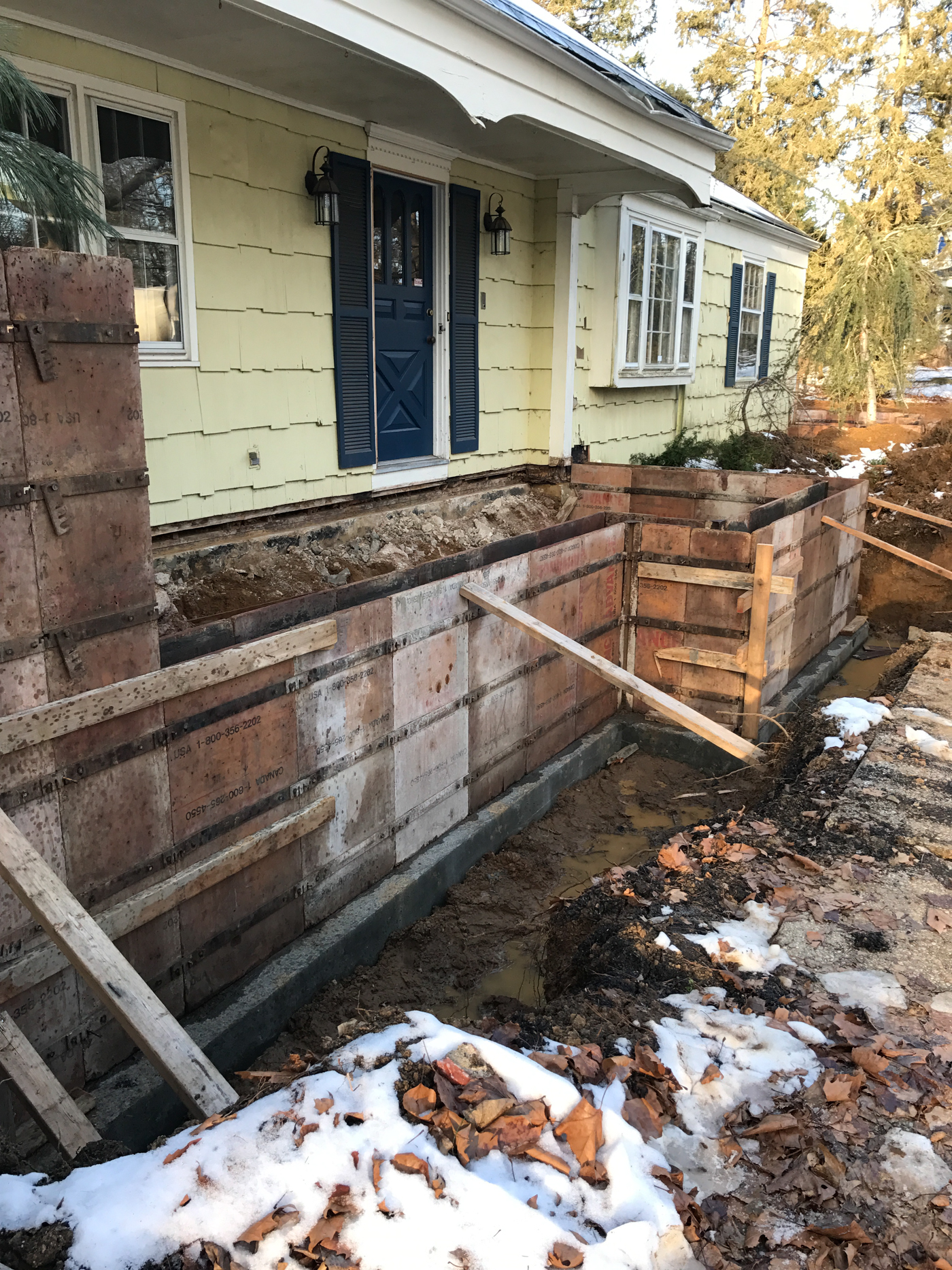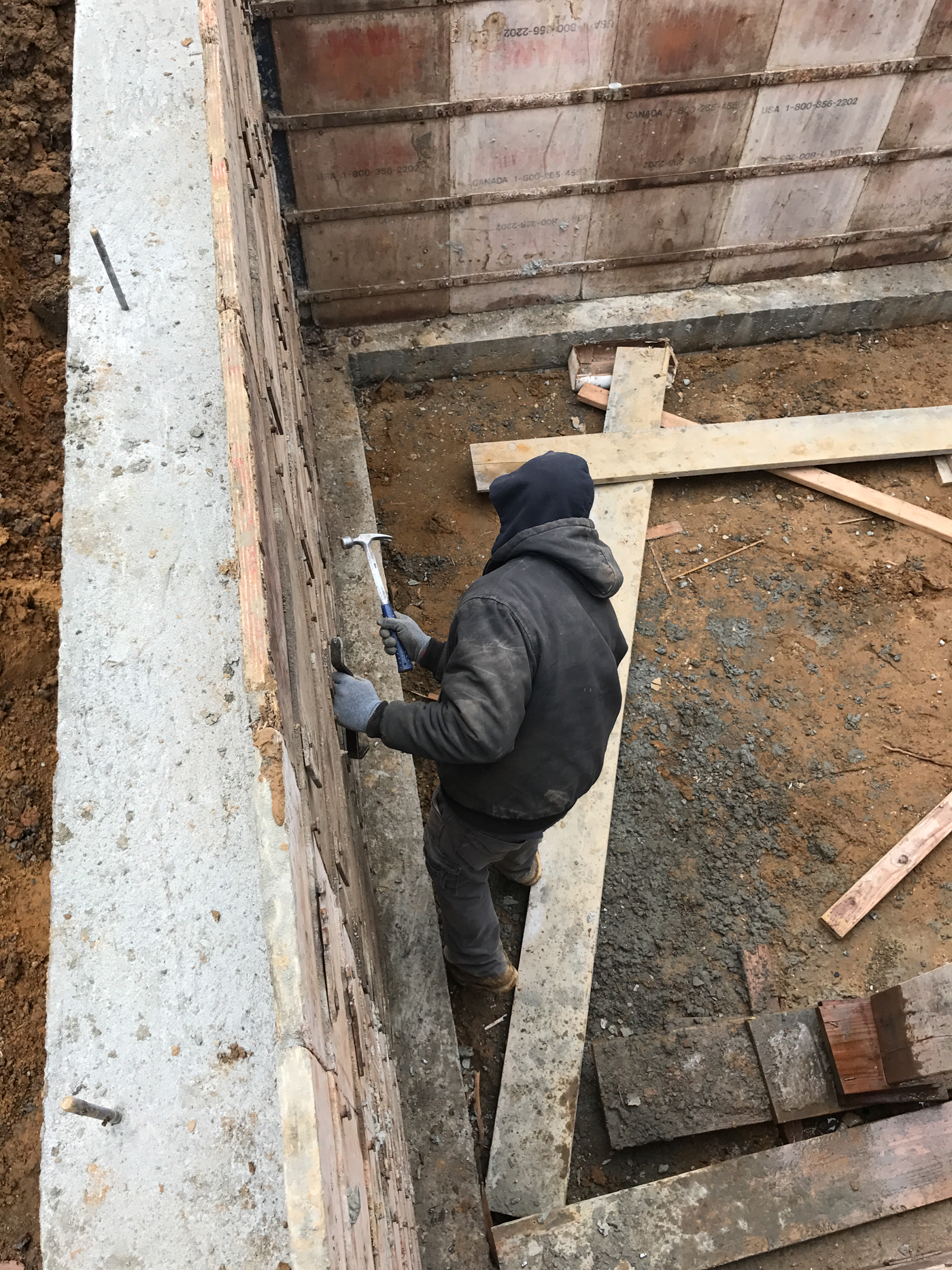 We have foundation walls for our additions!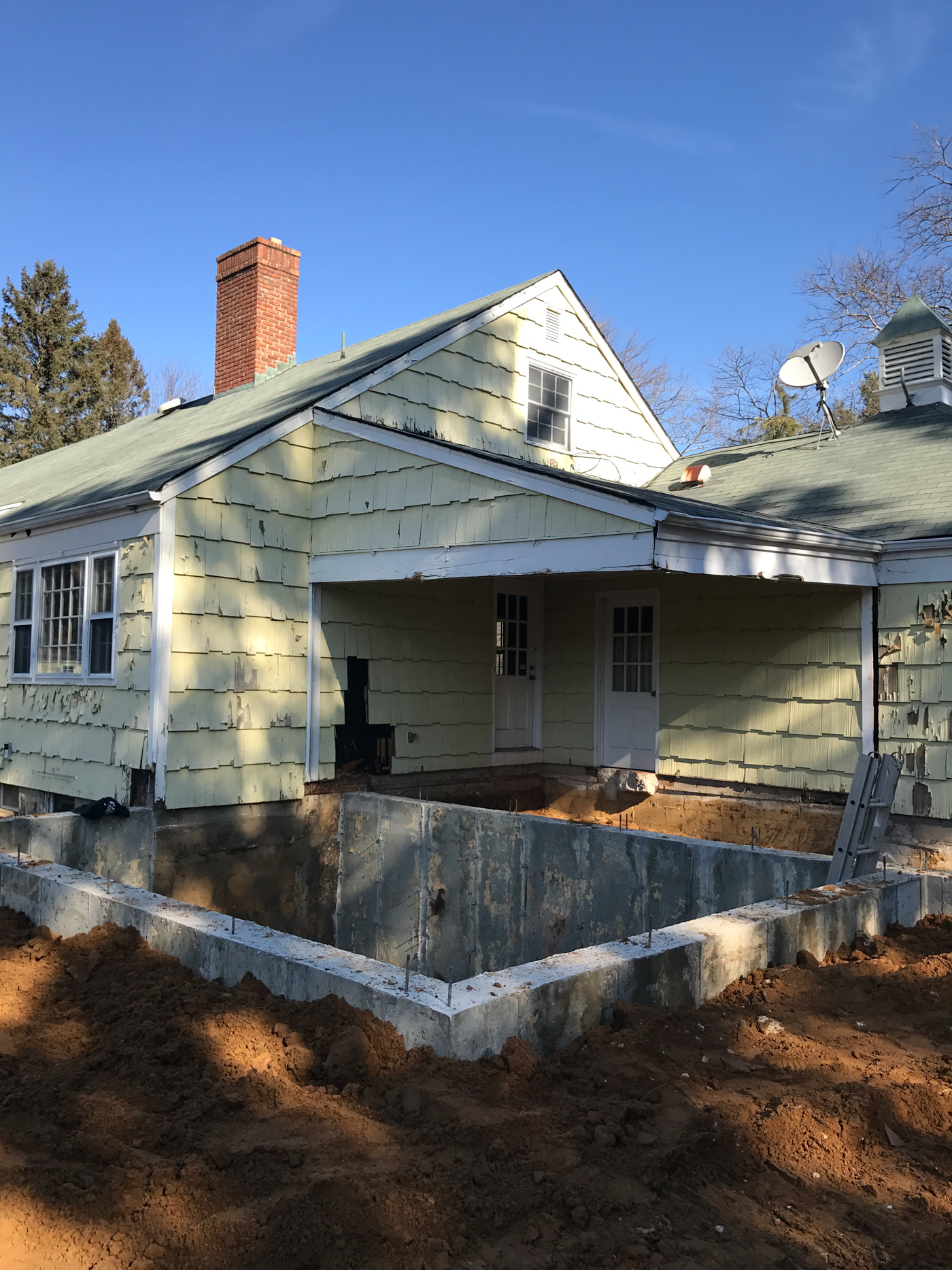 Floors and crawl spaces were poured! Here's Jake smoothing out the concrete!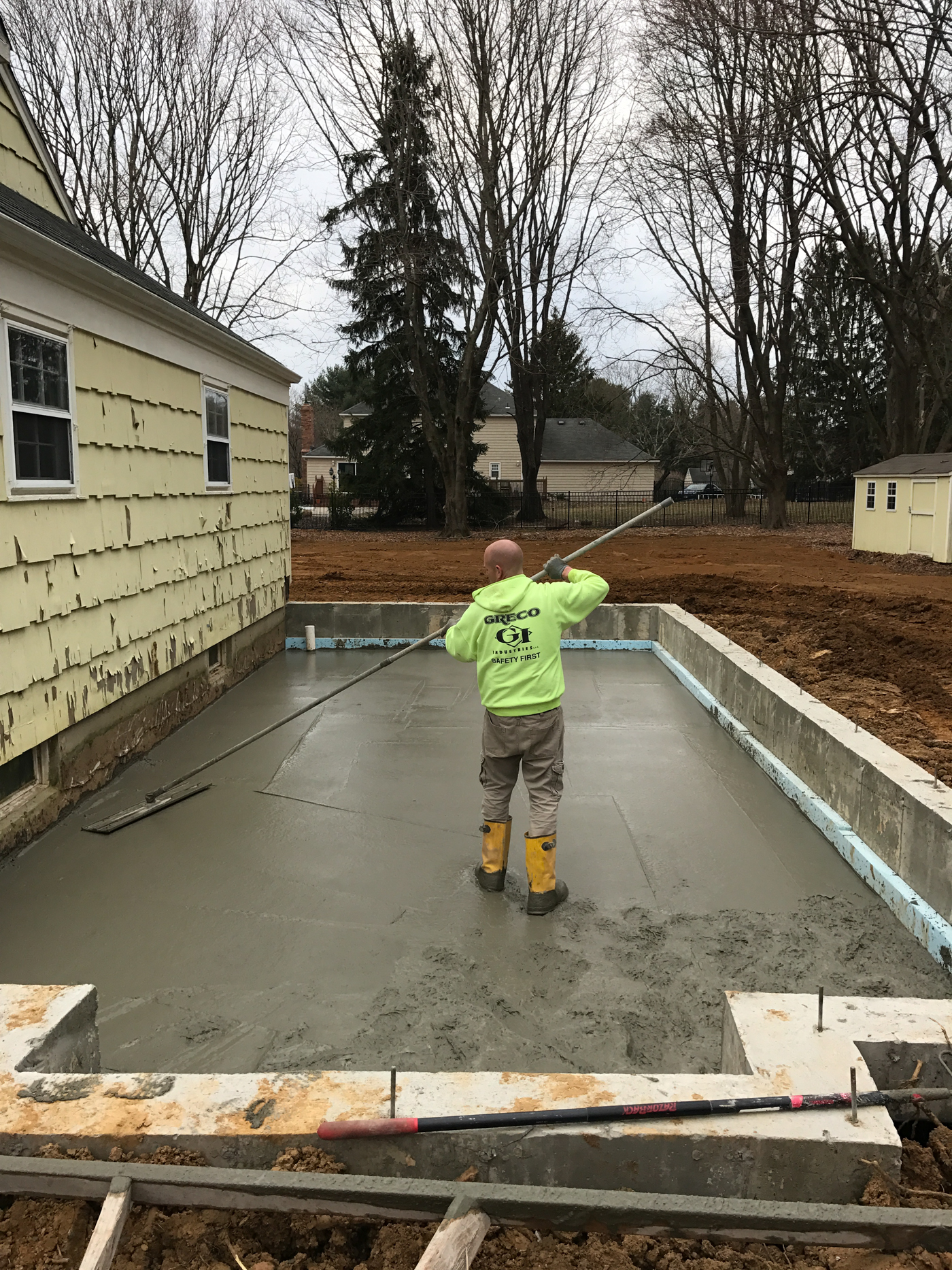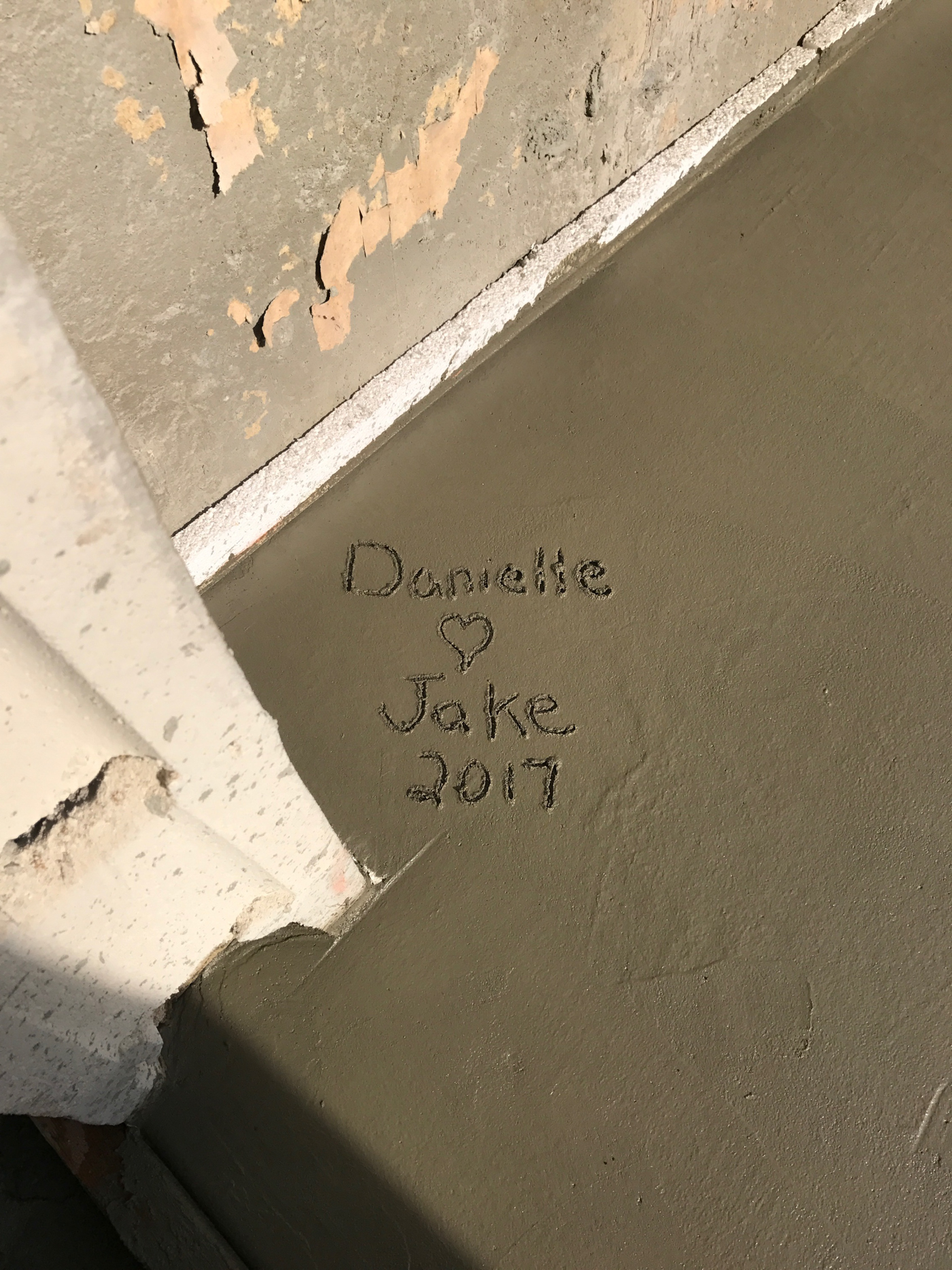 We finally removed the old painted cedar siding from the home! What a difference from the very first photo already!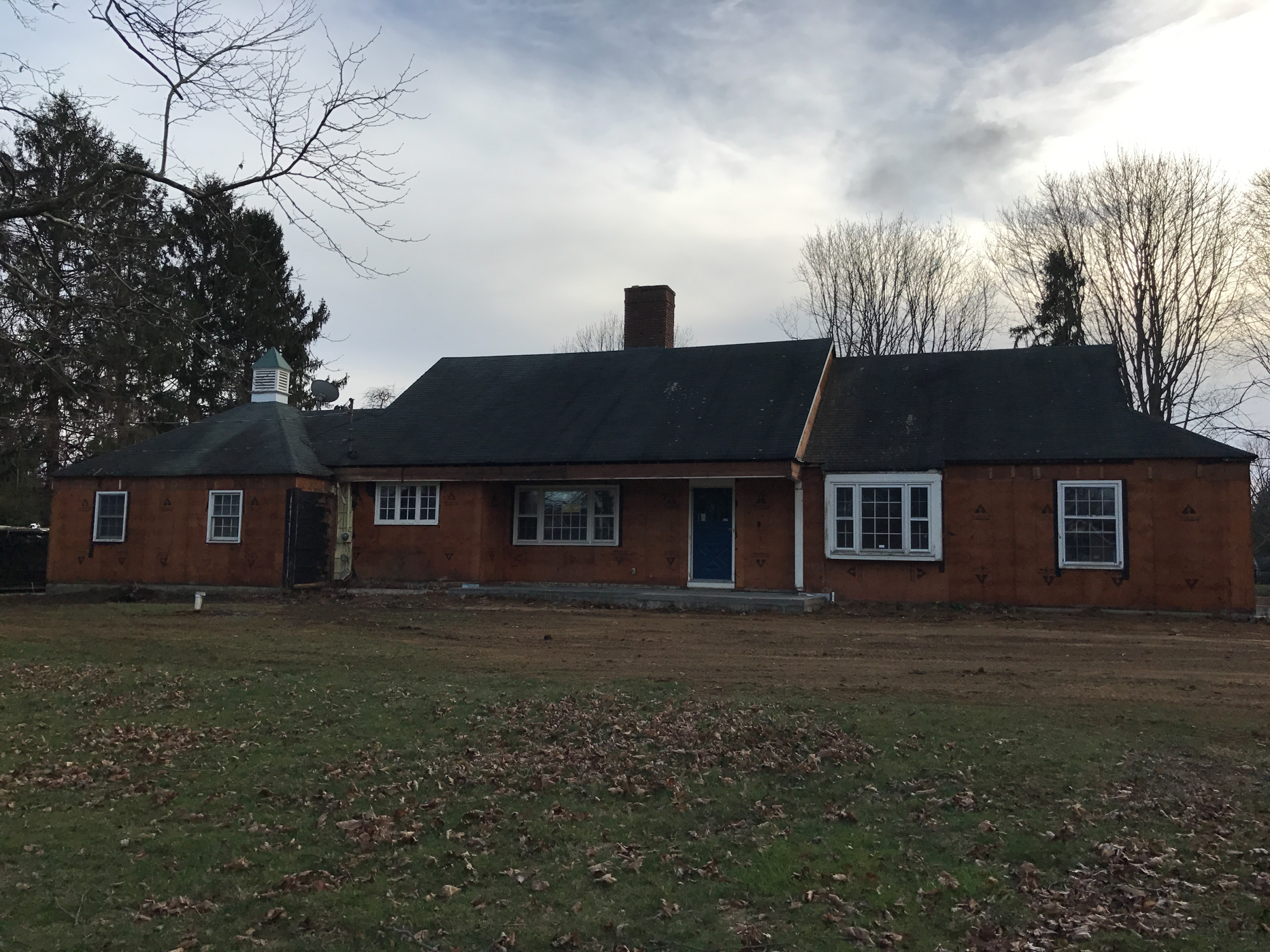 AND…….. Here is where the REAL transformation begins! The roof comes off!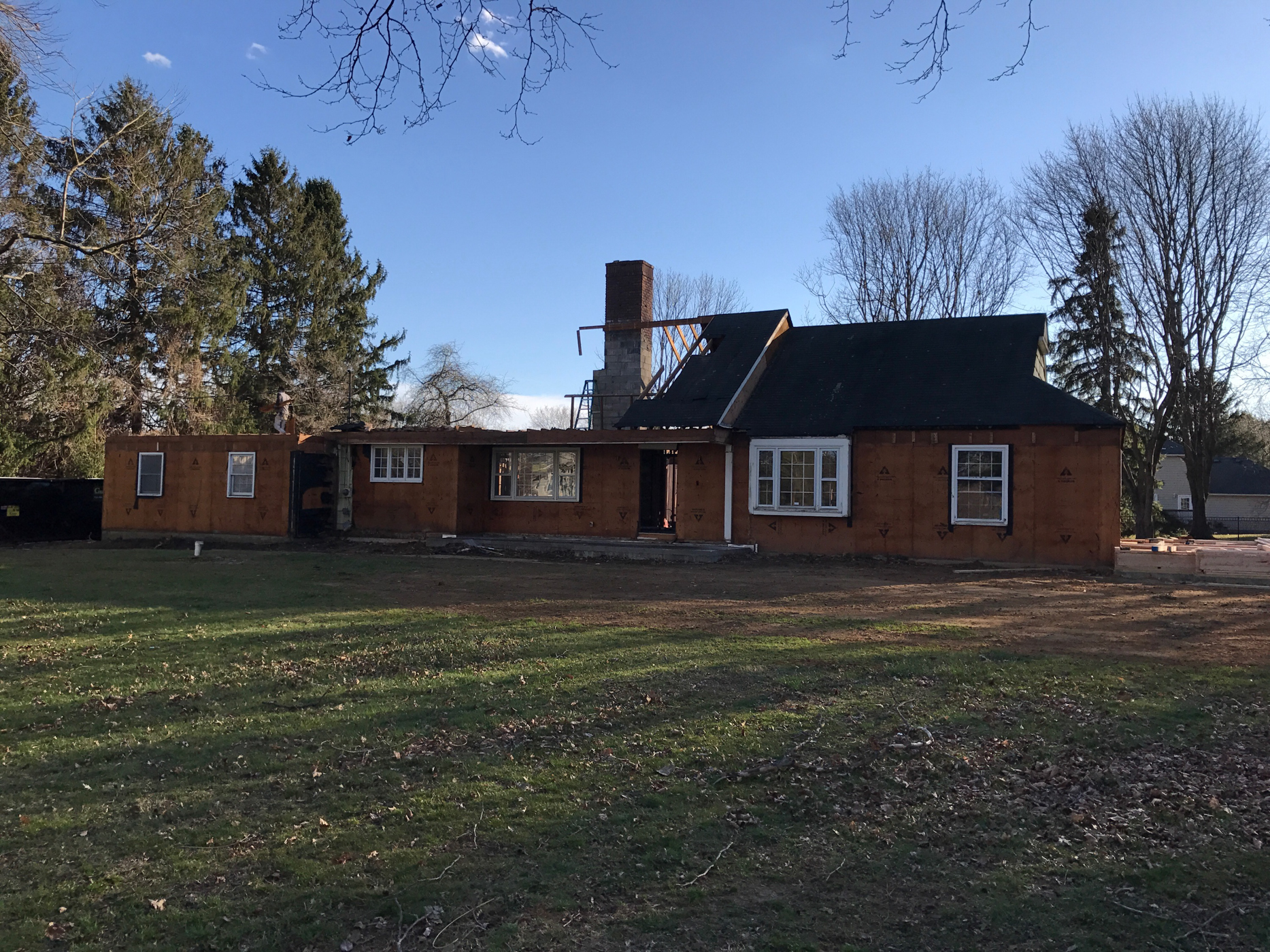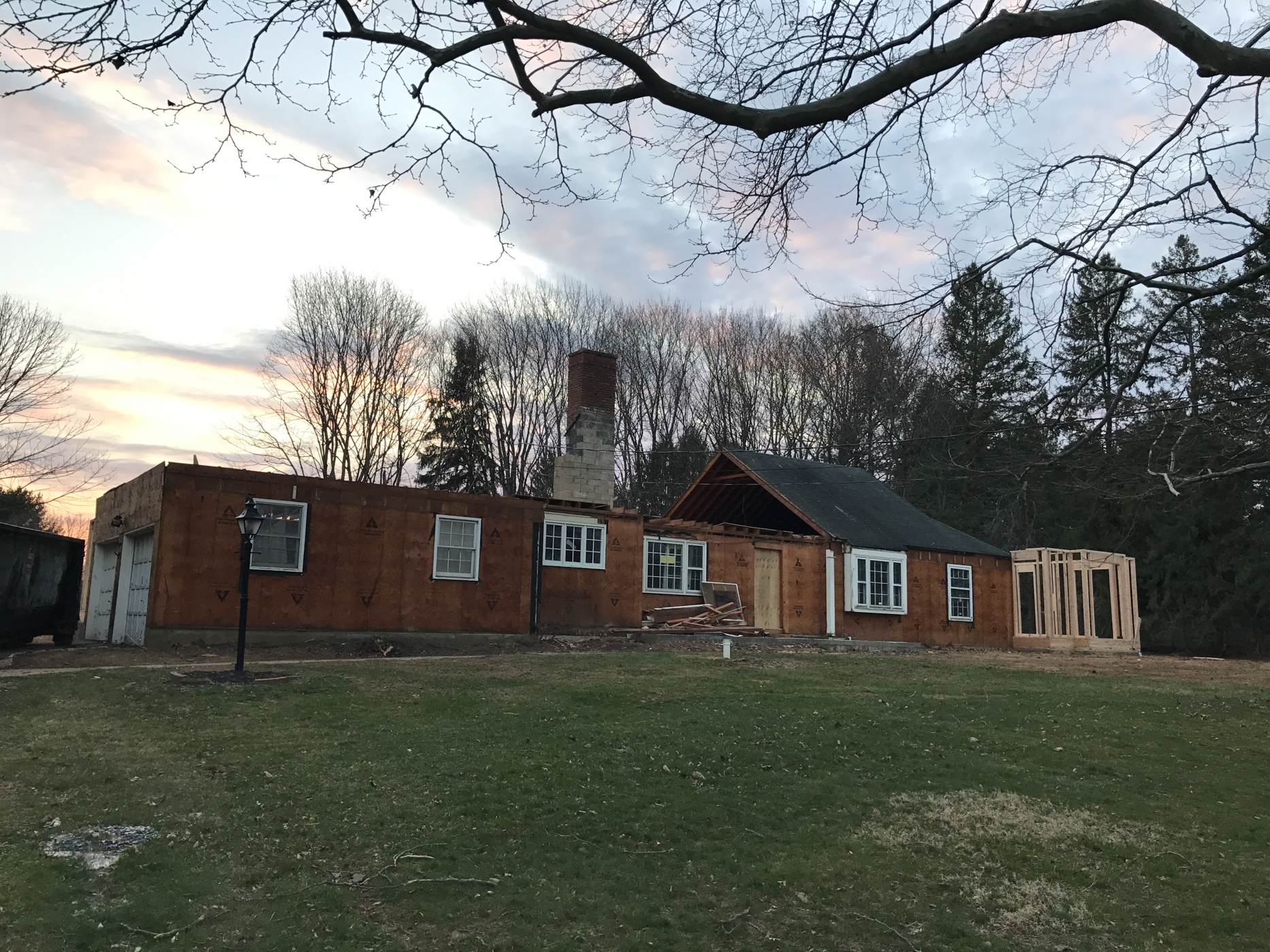 Framing started, our master suit went up first!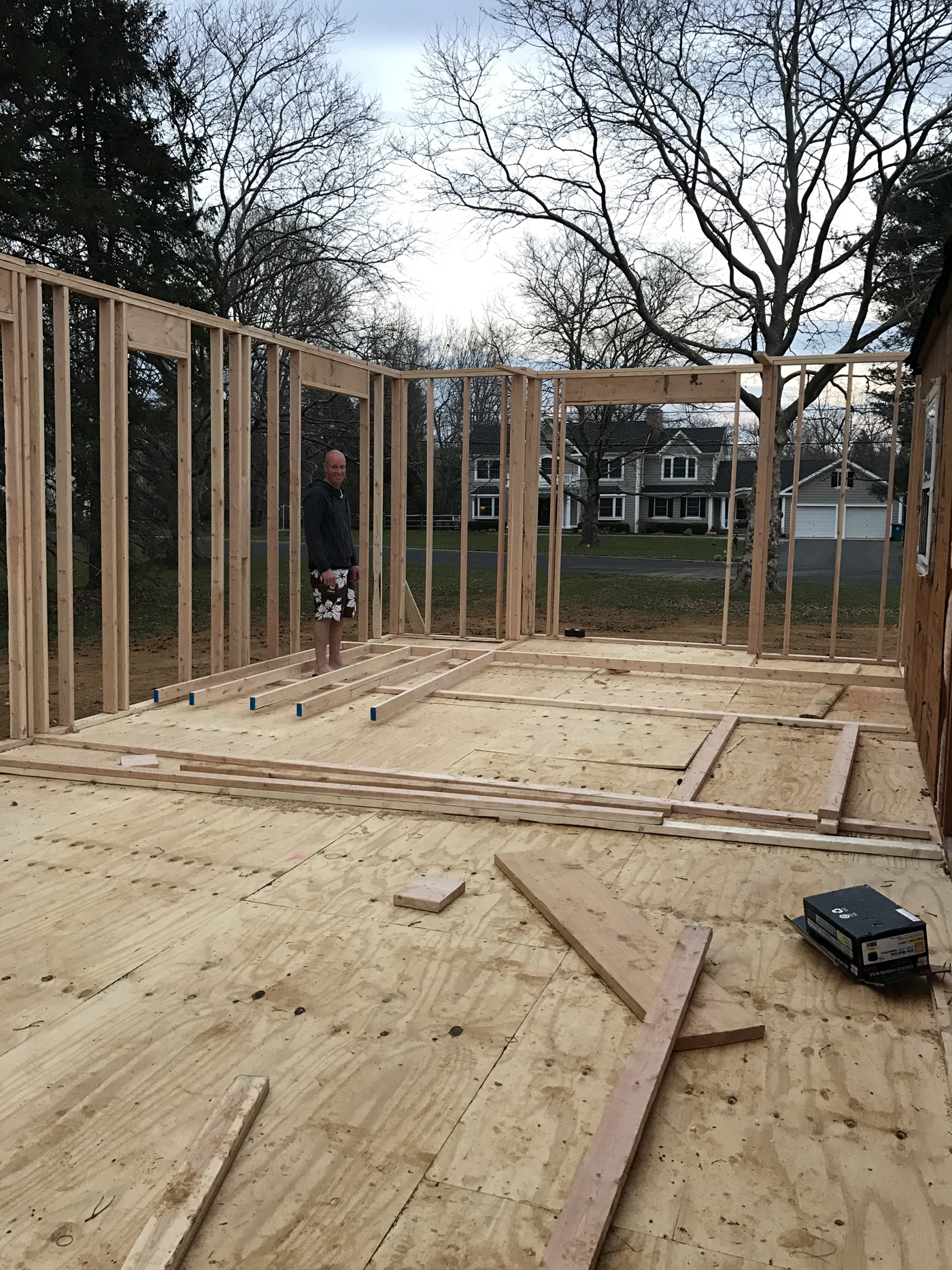 The soon-to-be beautiful & long hallway to the bedrooms!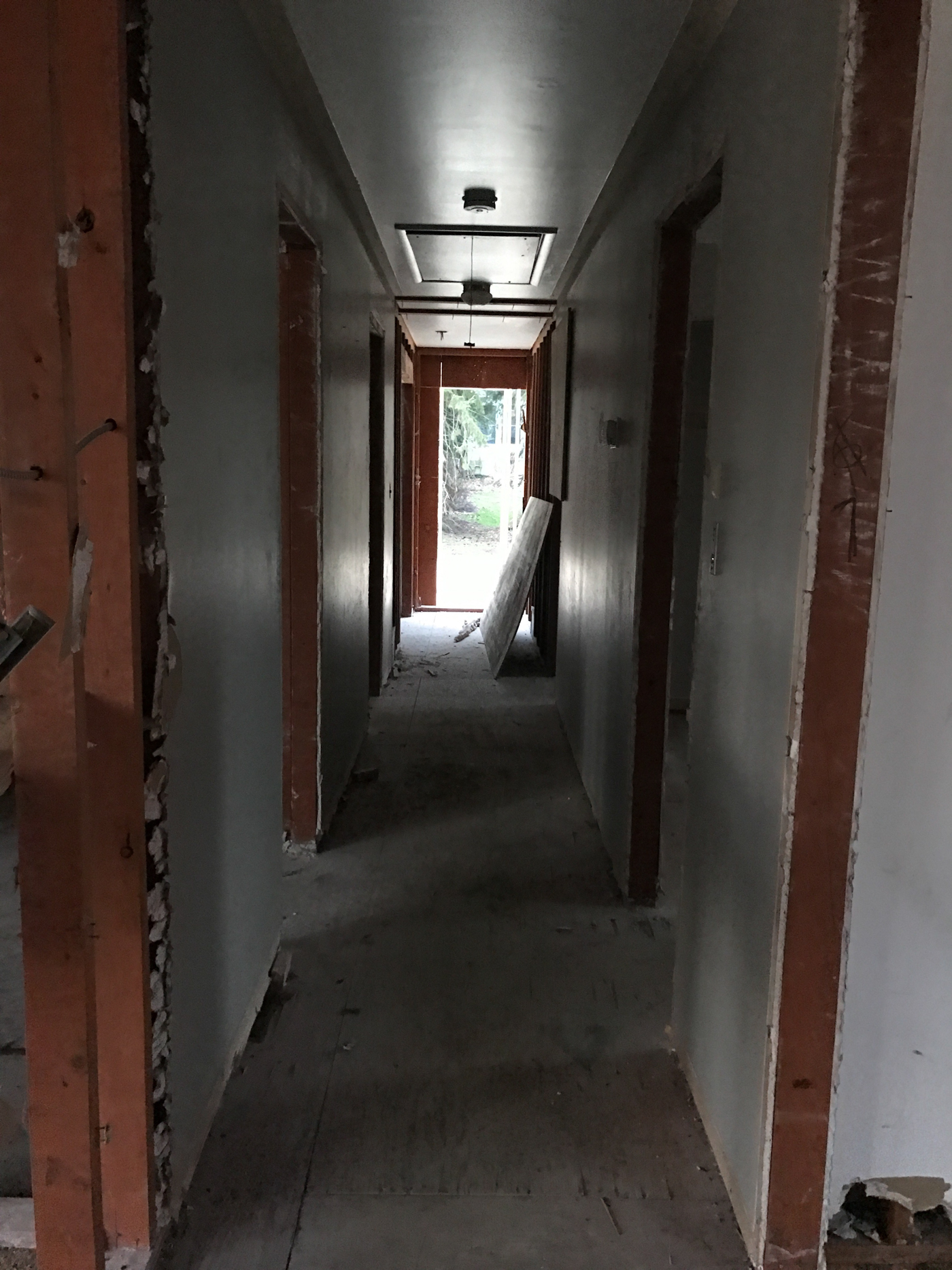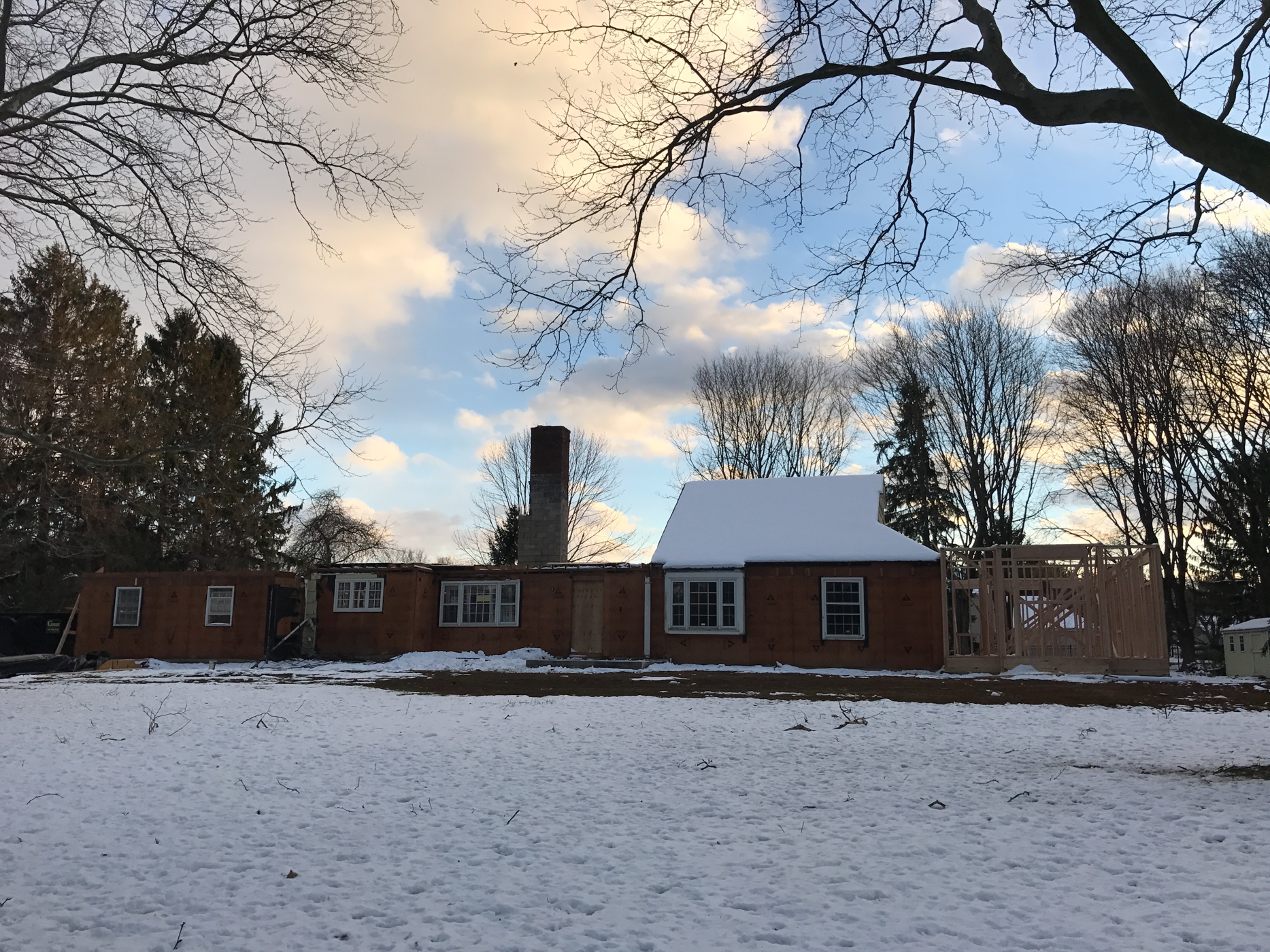 A little snow never stopped anyone!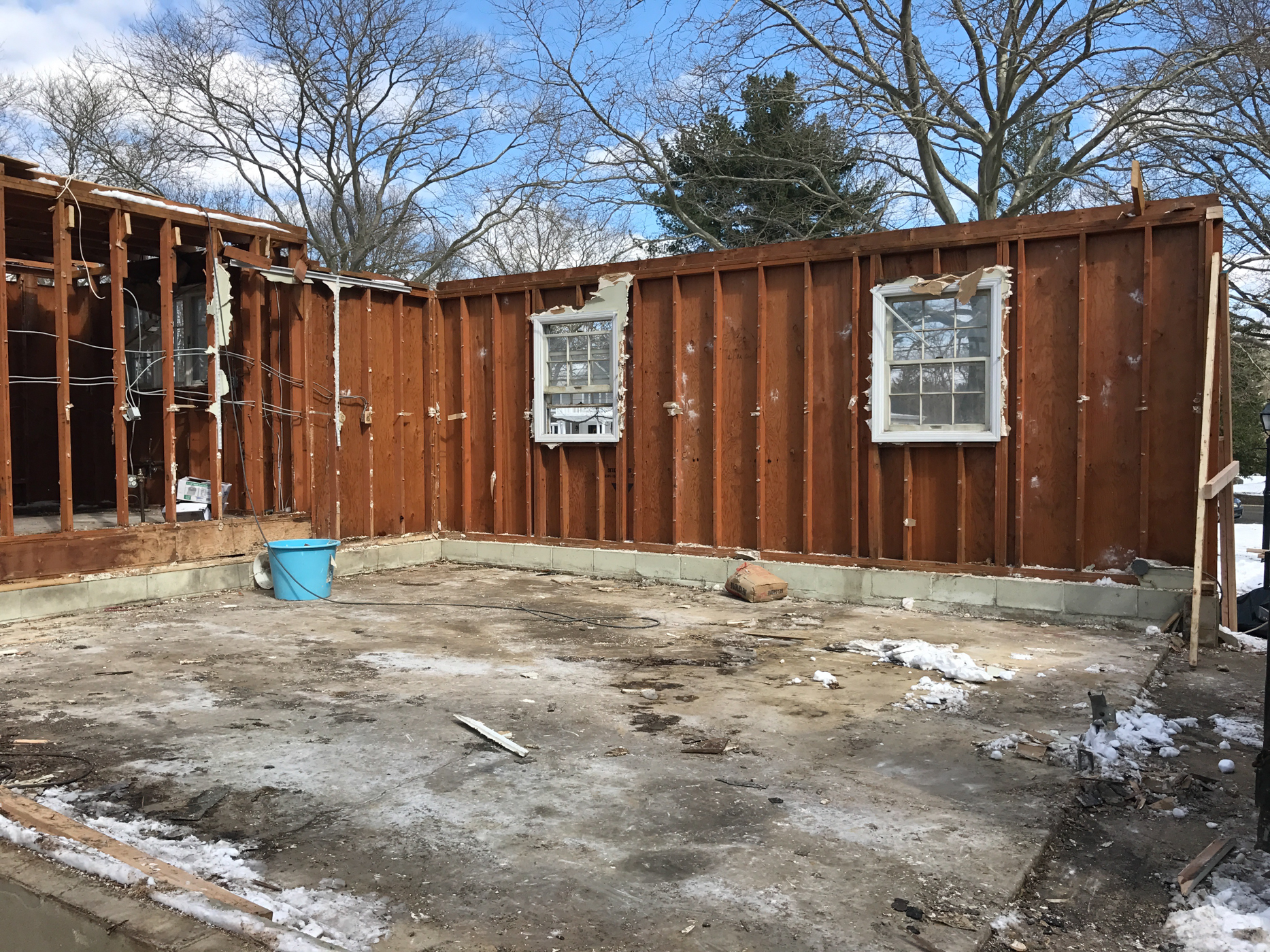 The back addition was framed, which will be our kitchen and family room.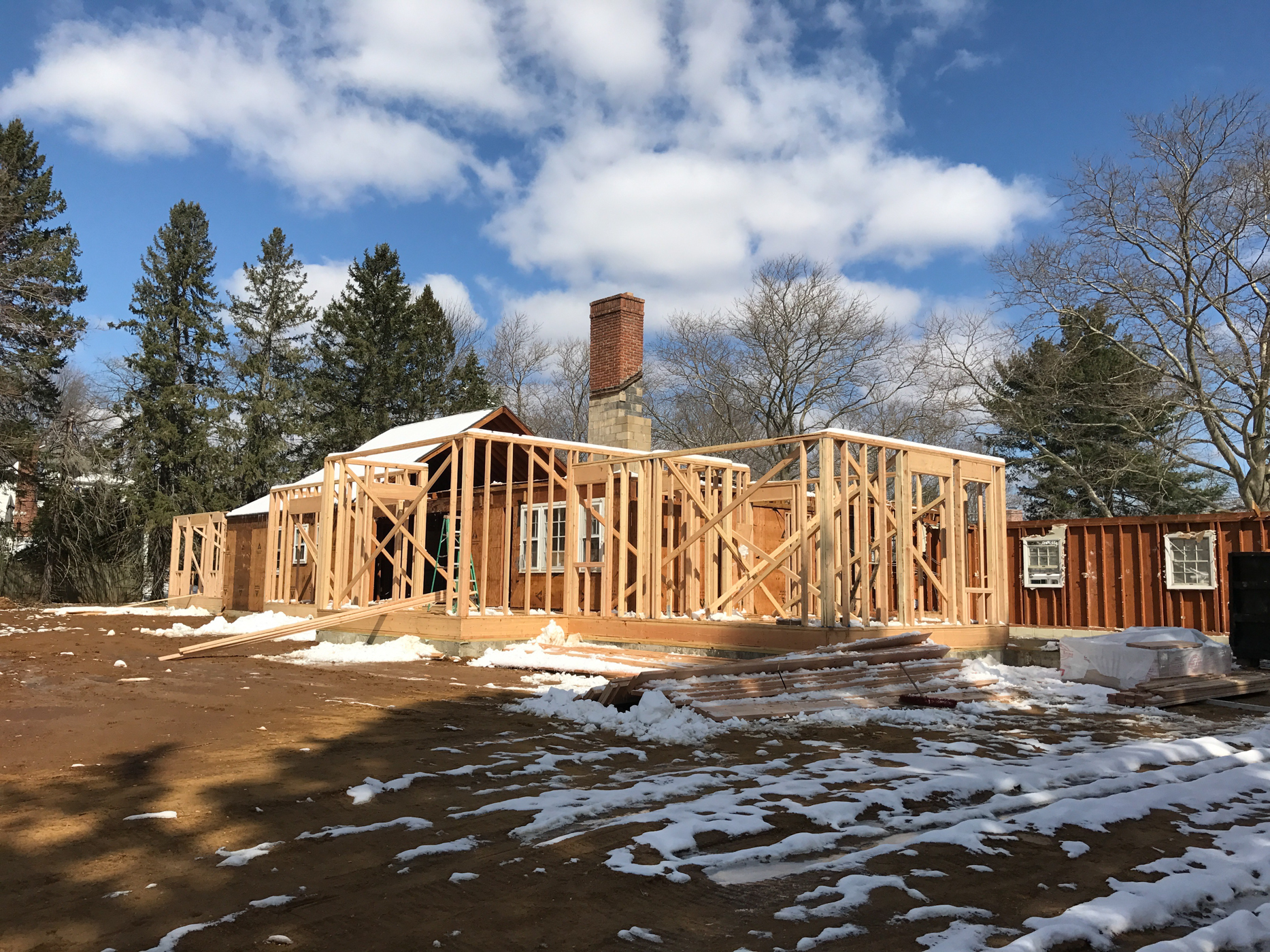 That time we were supposed to get 18″ of snow and only got 4″! (YES…we shoveled snow out of the house)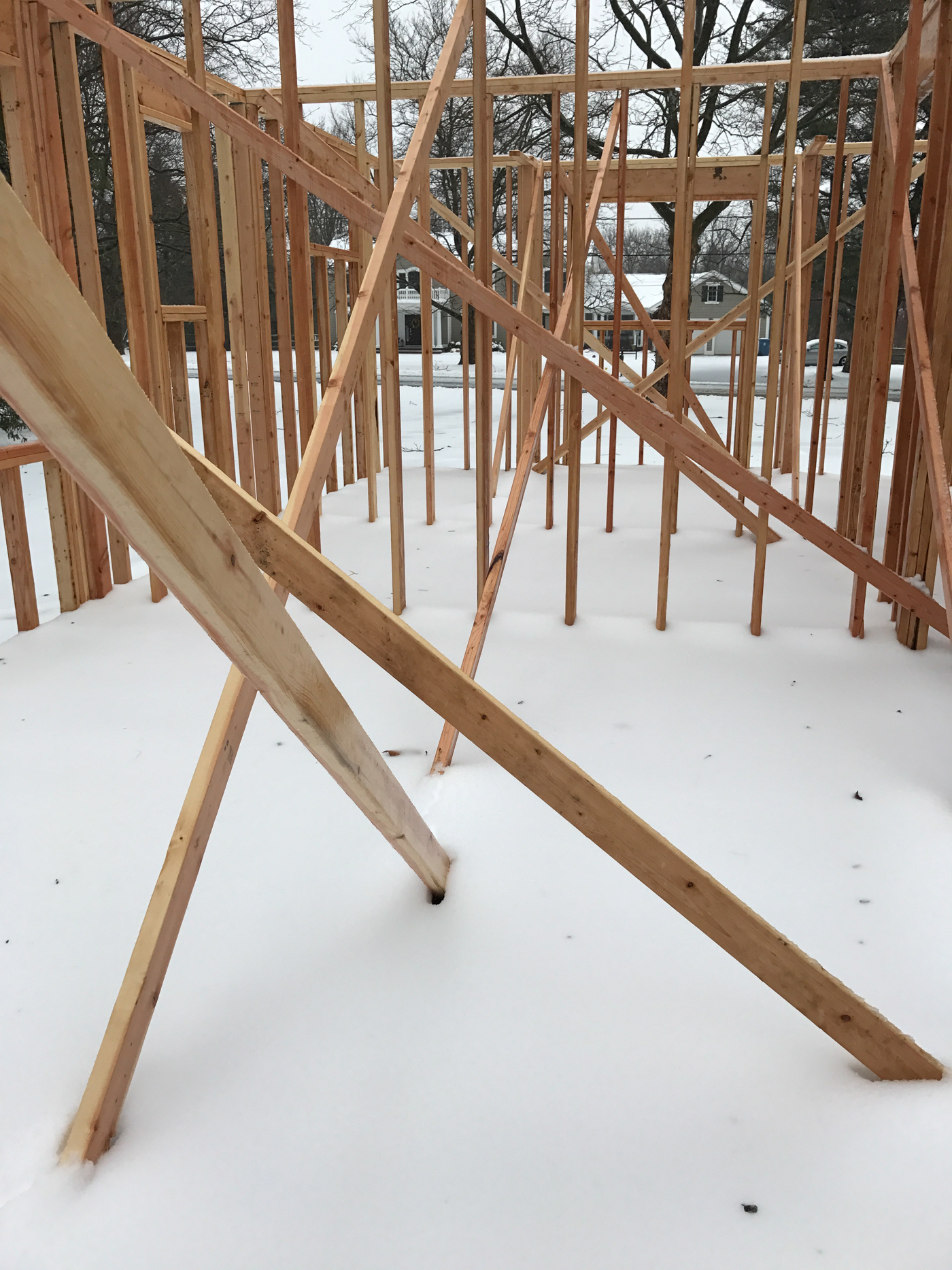 Snow and ice melting from the roof into the house. Oh…this was fun!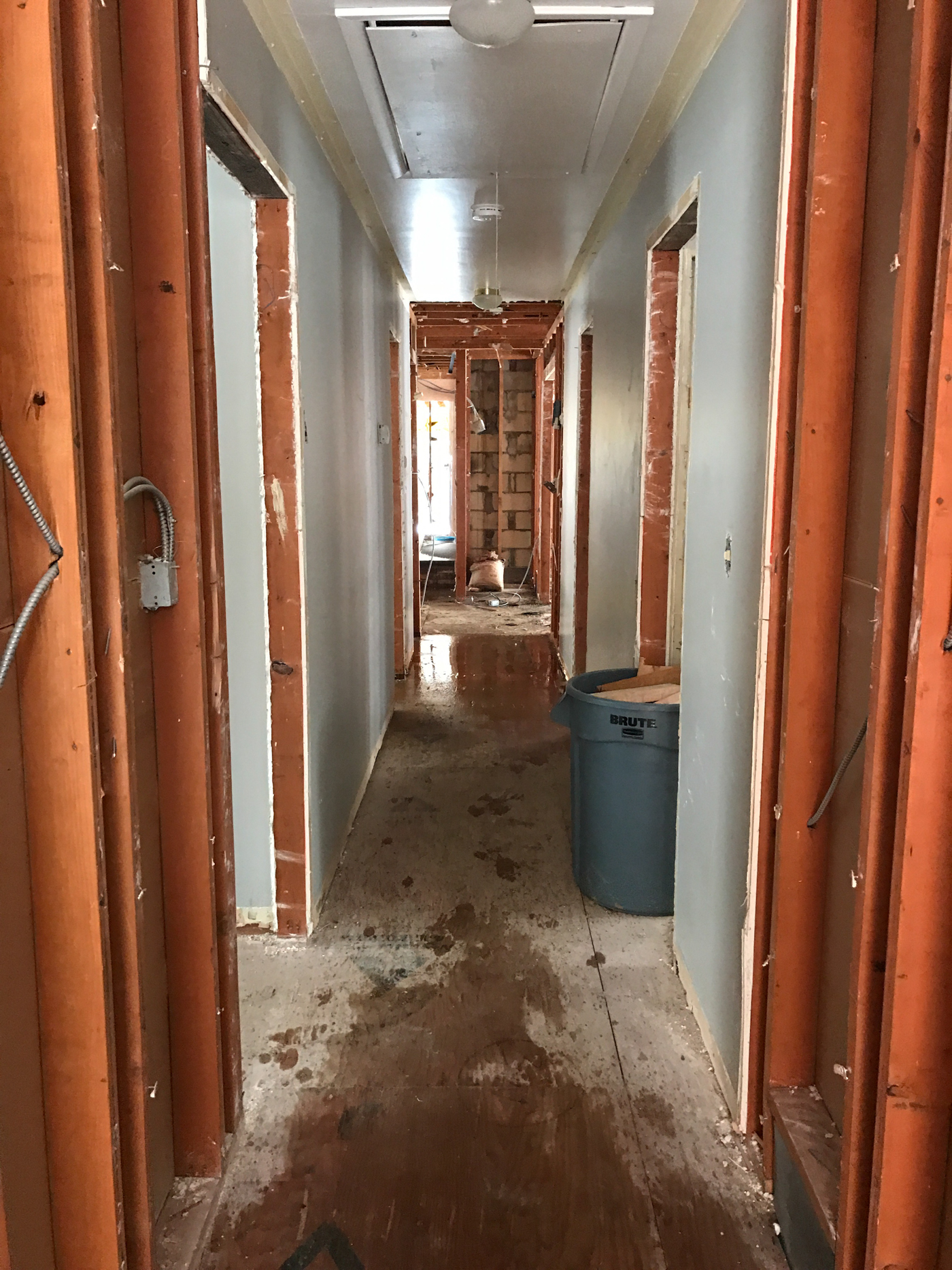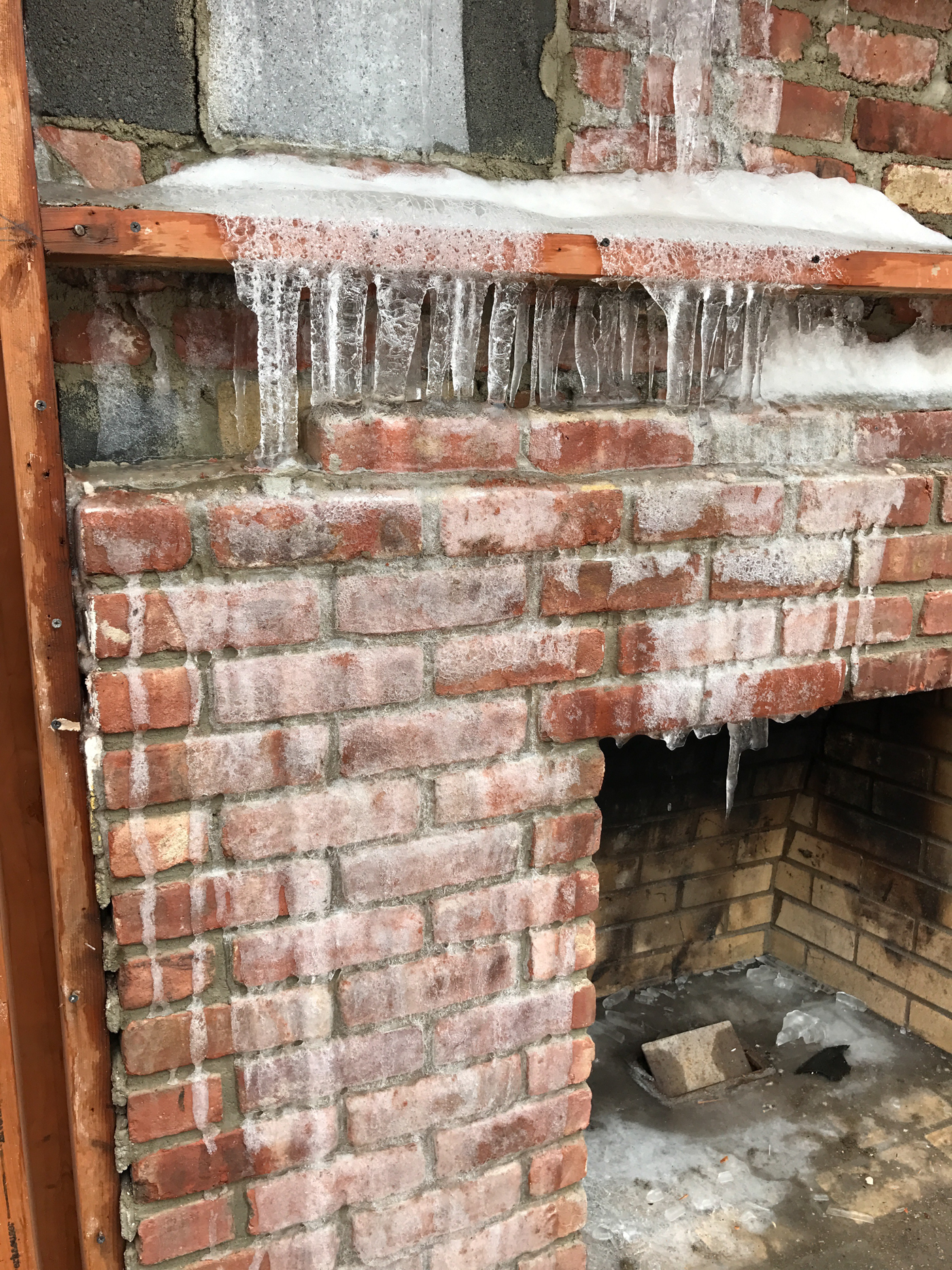 The only time there would be ice and snow on my fireplace! And…speaking of the fireplace, we had huge plans for this fireplace from the very beginning. It will be the focal point of the living space. We will have it completely exposed to the ceiling and it will be re-bricked to resemble the original. You'll have to wait for finished photos!!!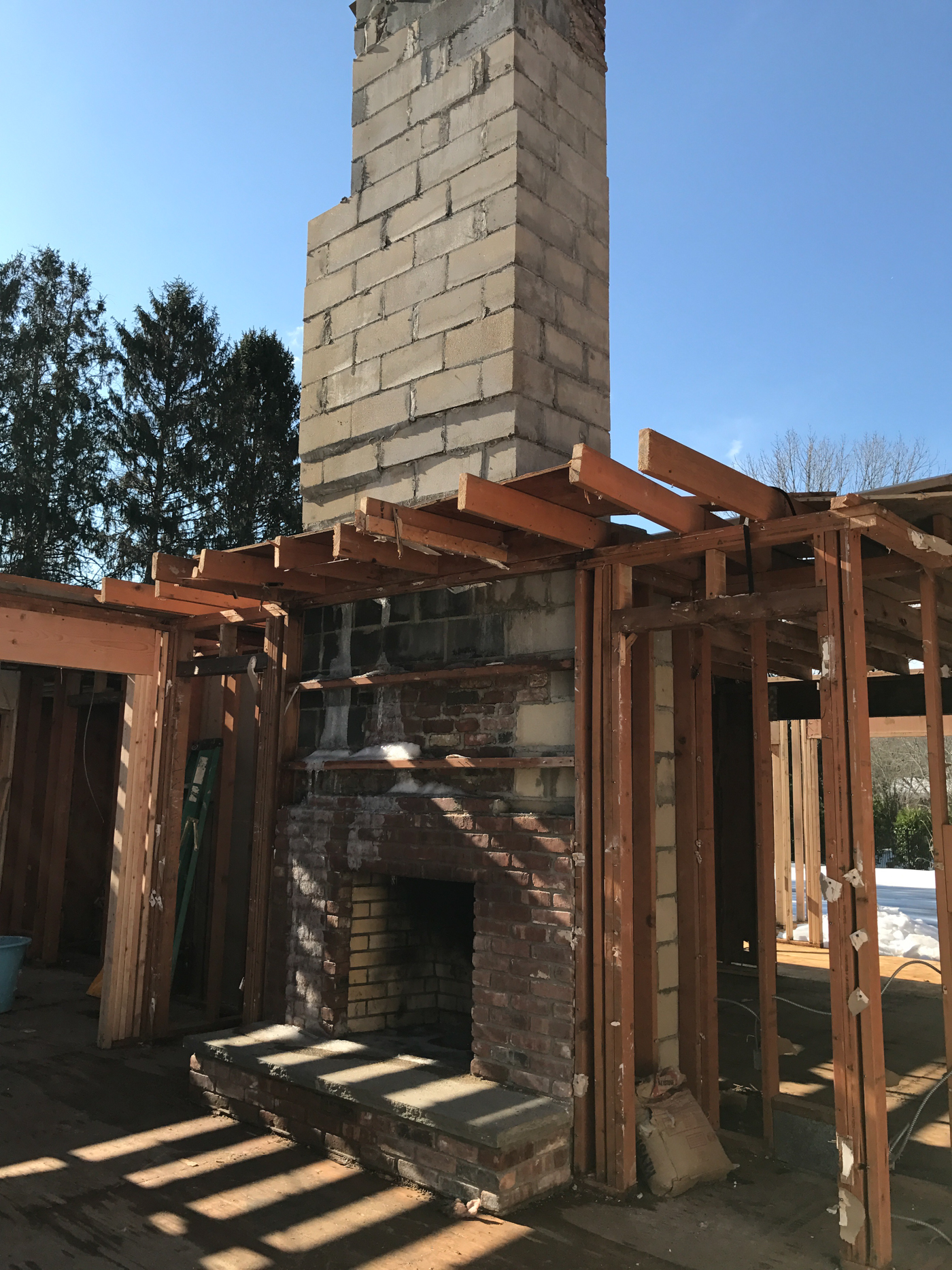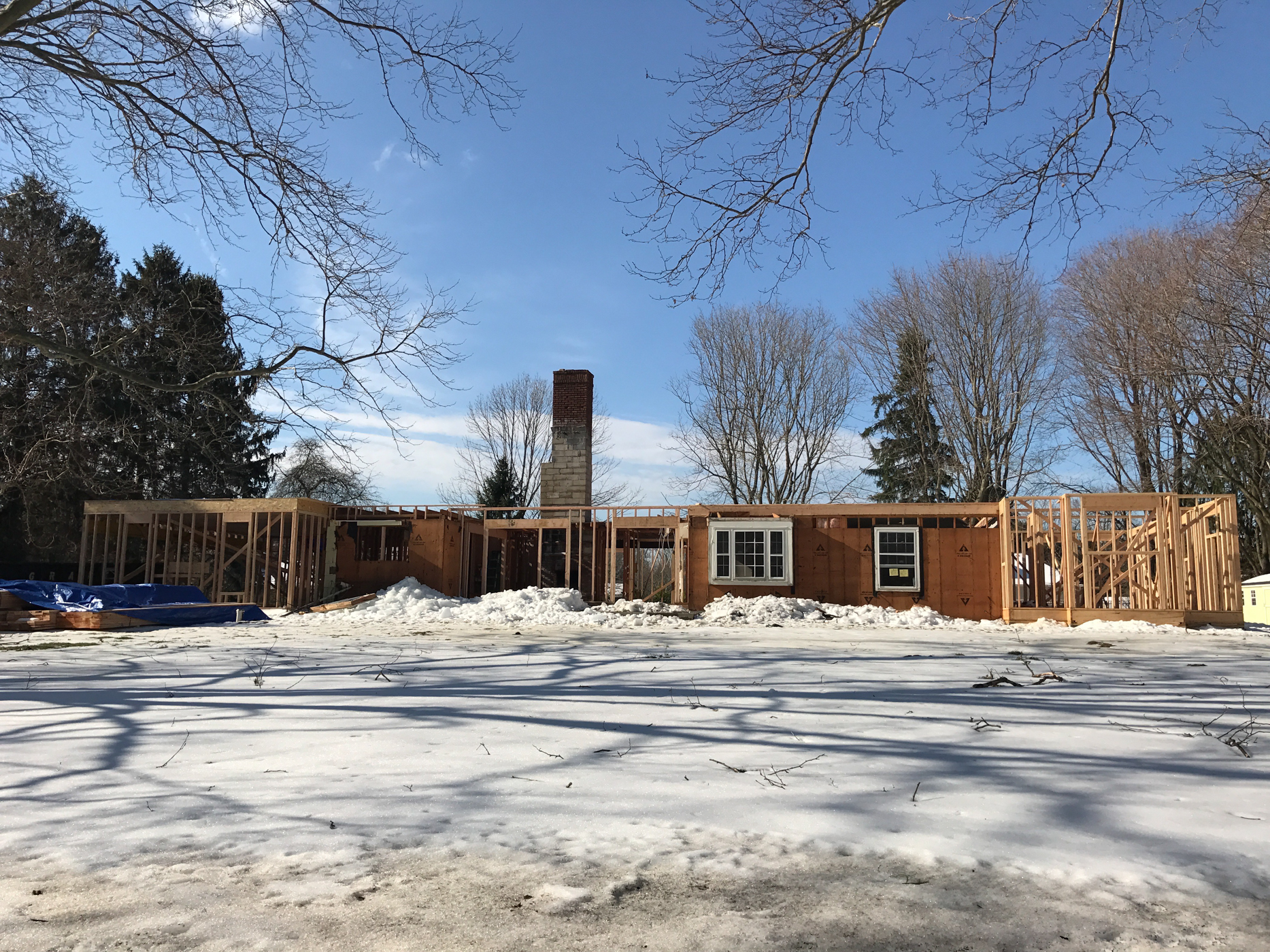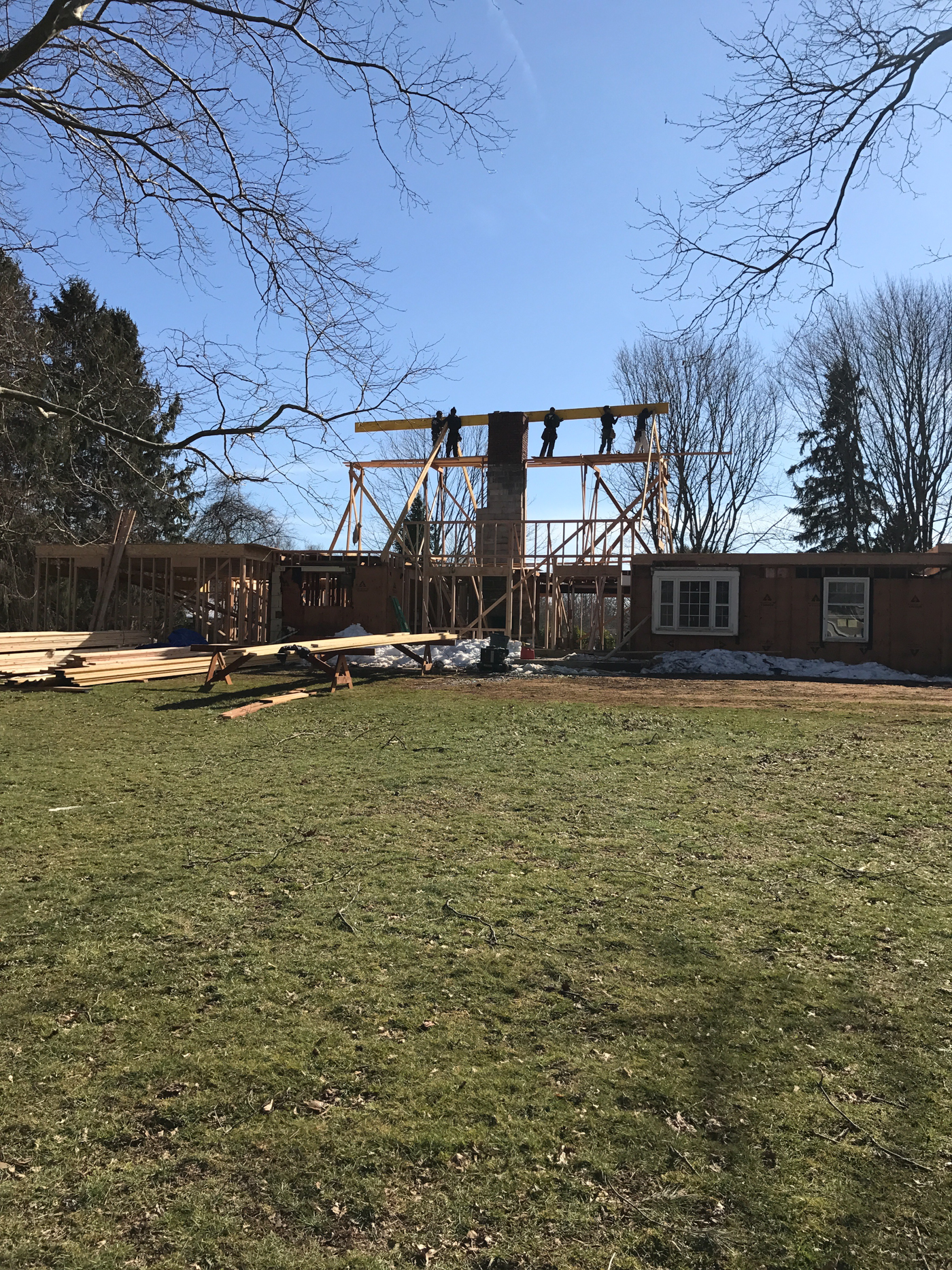 And….the roof framing begins! The ridge beam went up first. If you're wondering why we took the roof off, we had to extend the back to reach the additions, which also gave us 6-8′ more ceiling in the living spaces.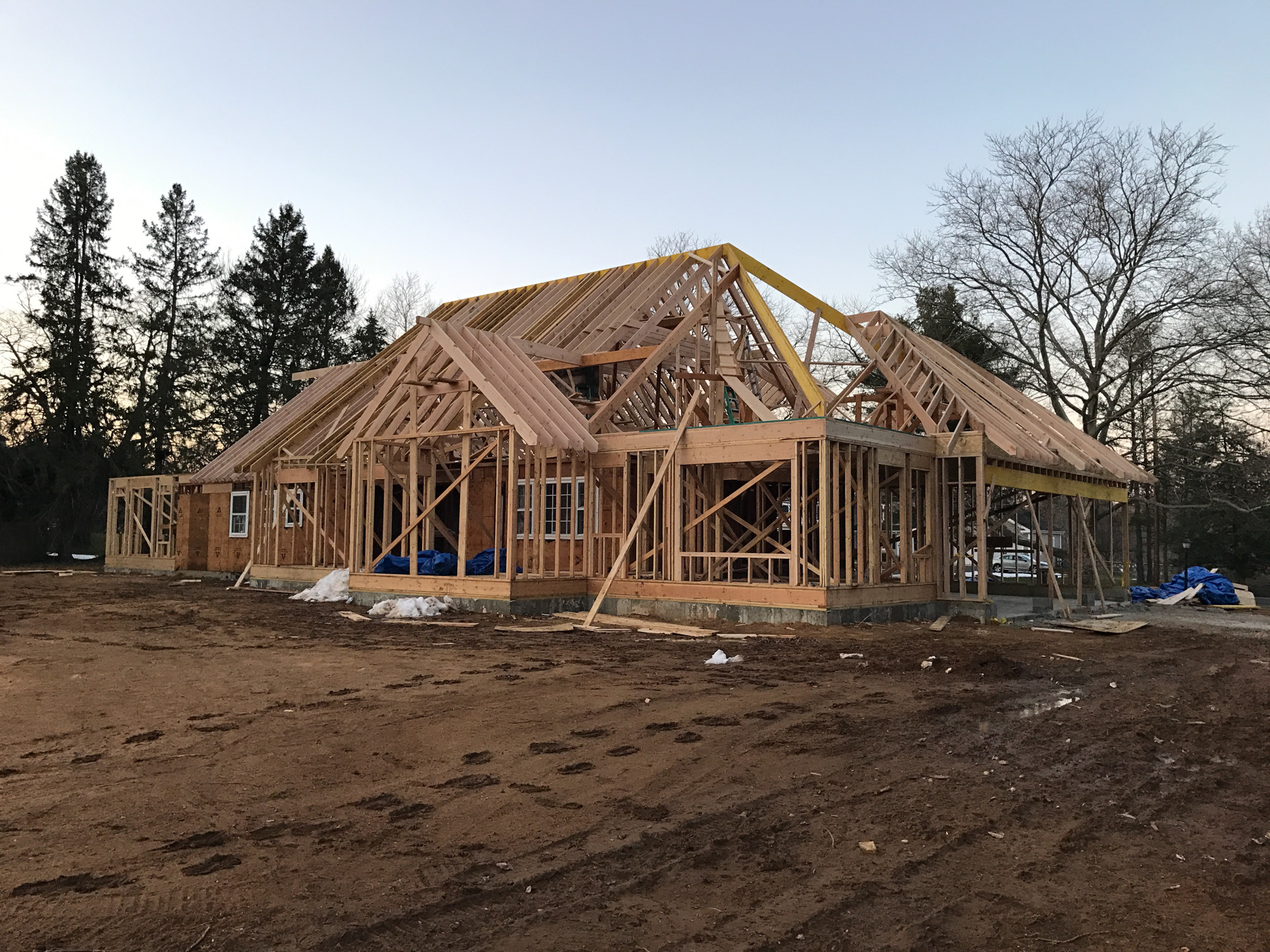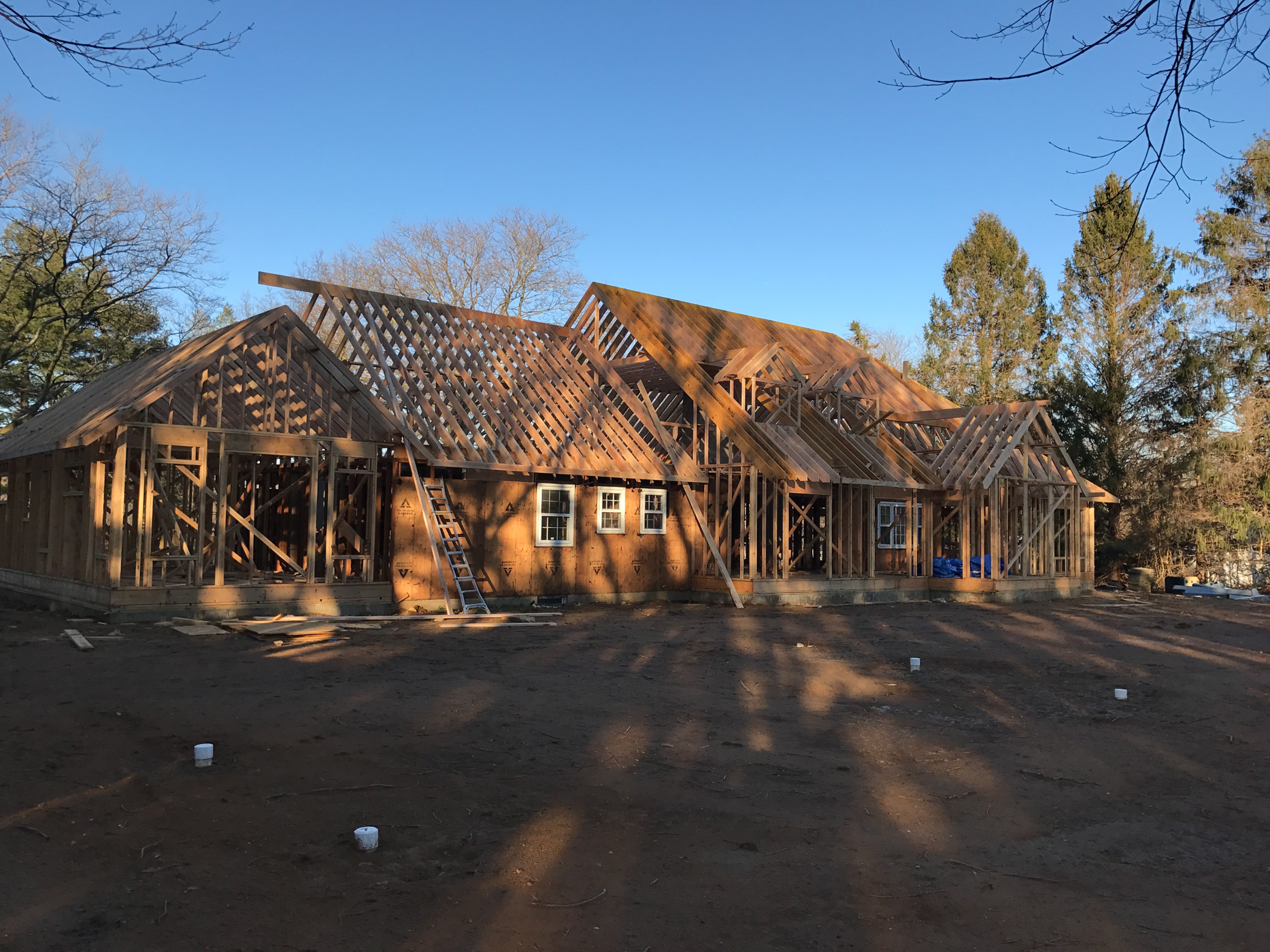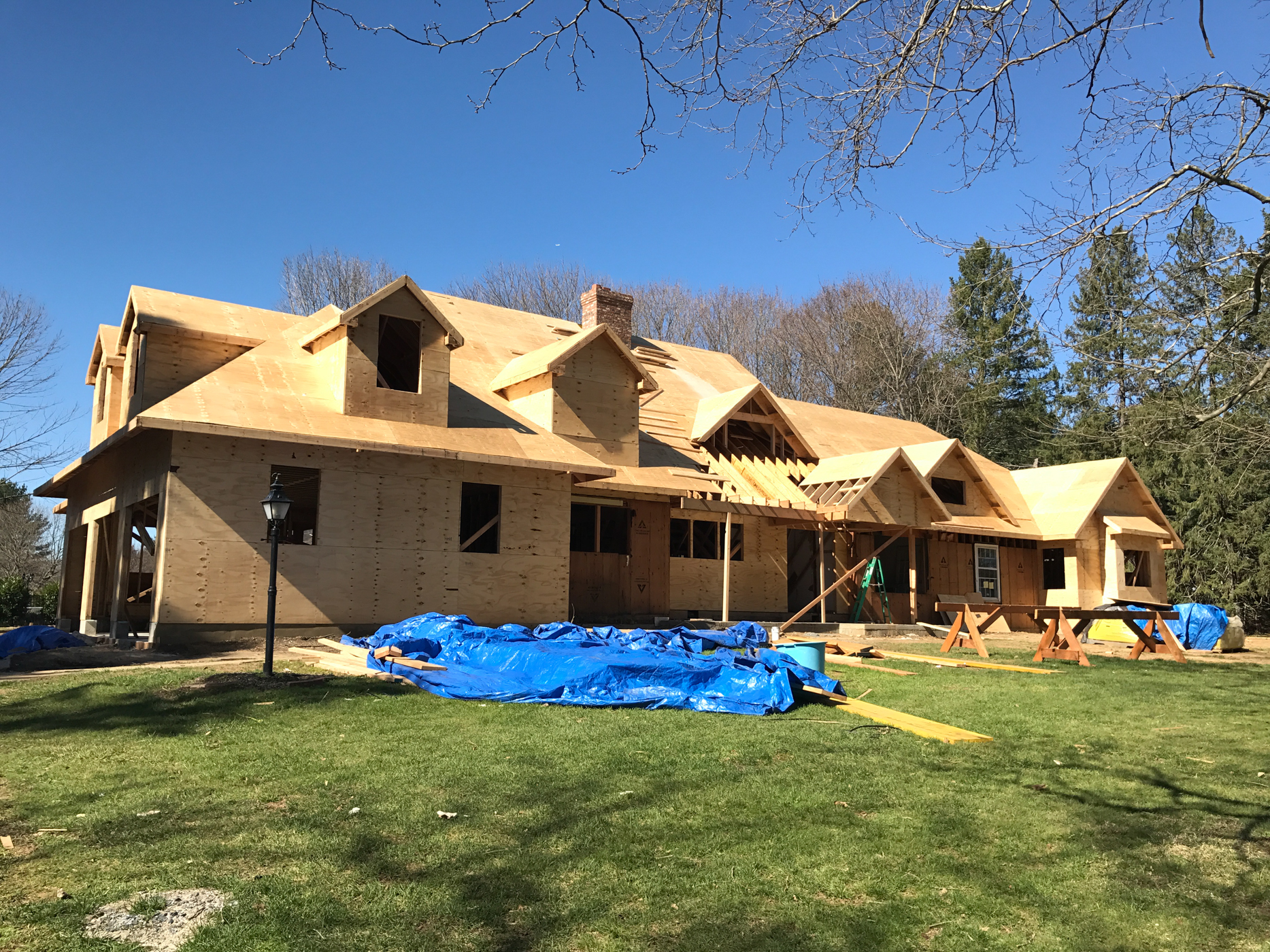 The sheathing was so exciting. The house really began to take shape now!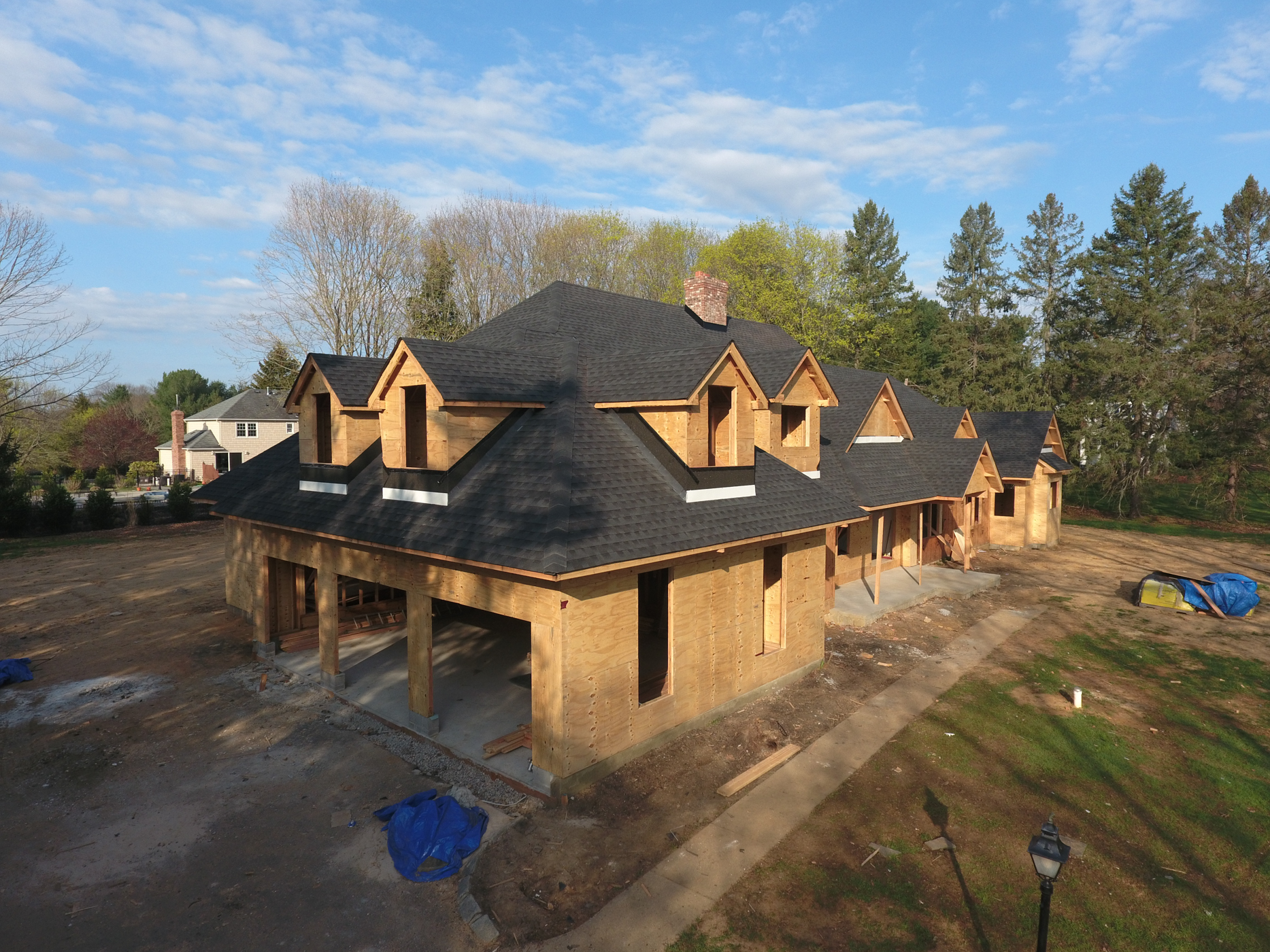 Our roofing shingles went on! Windows were put in! We went with black double hung windows with colonial style grilles (top only). Look at my dormers!!!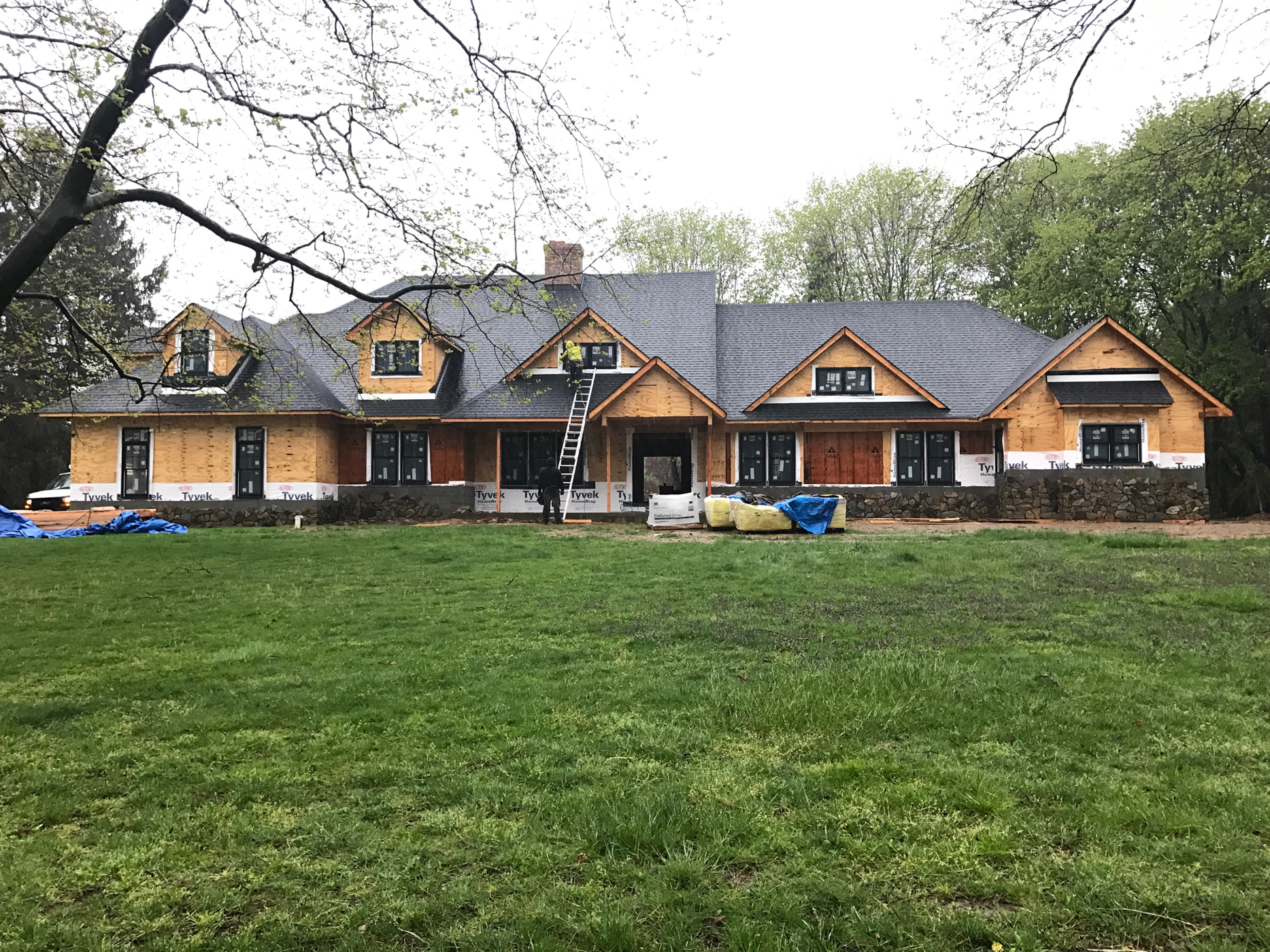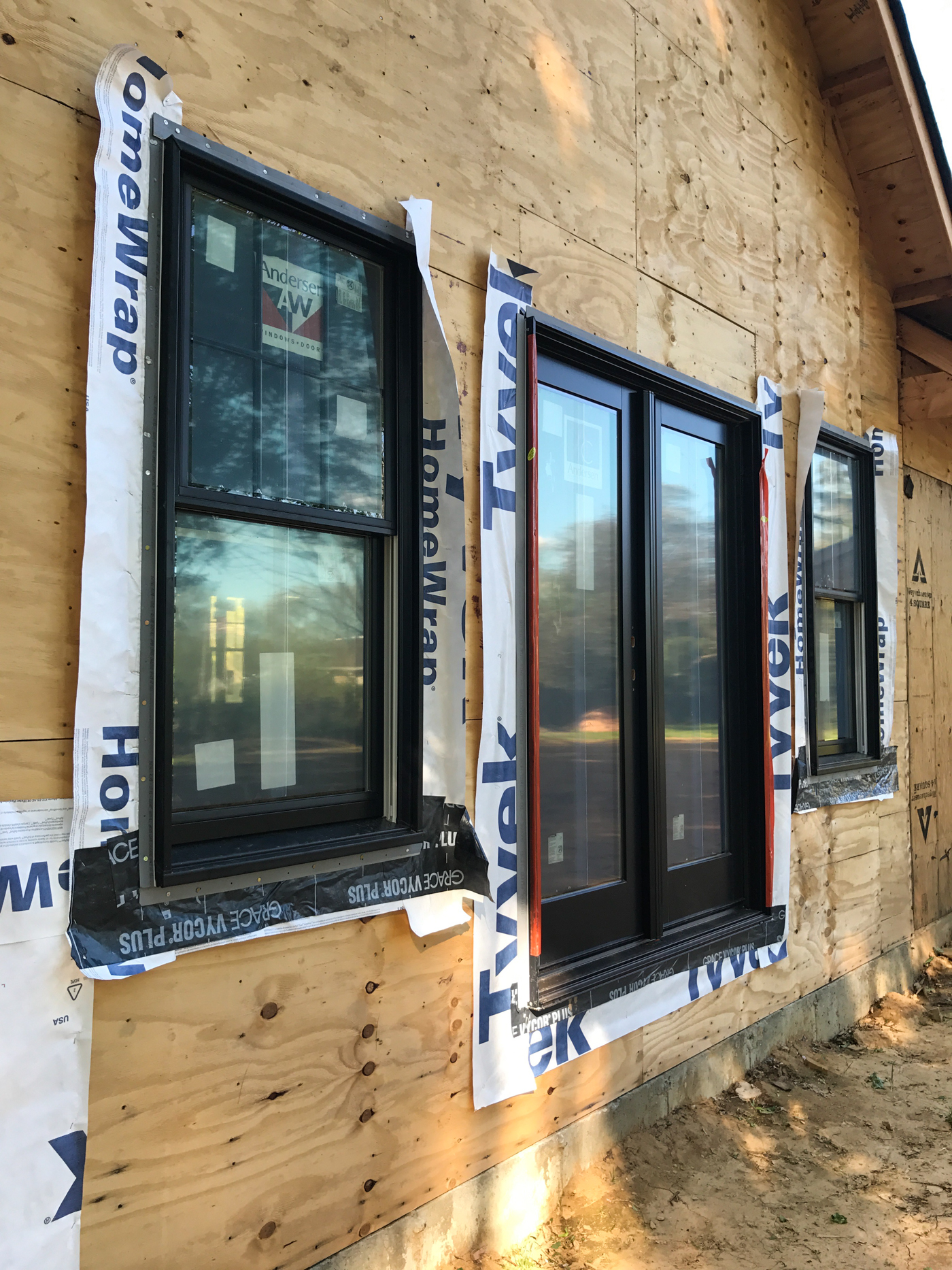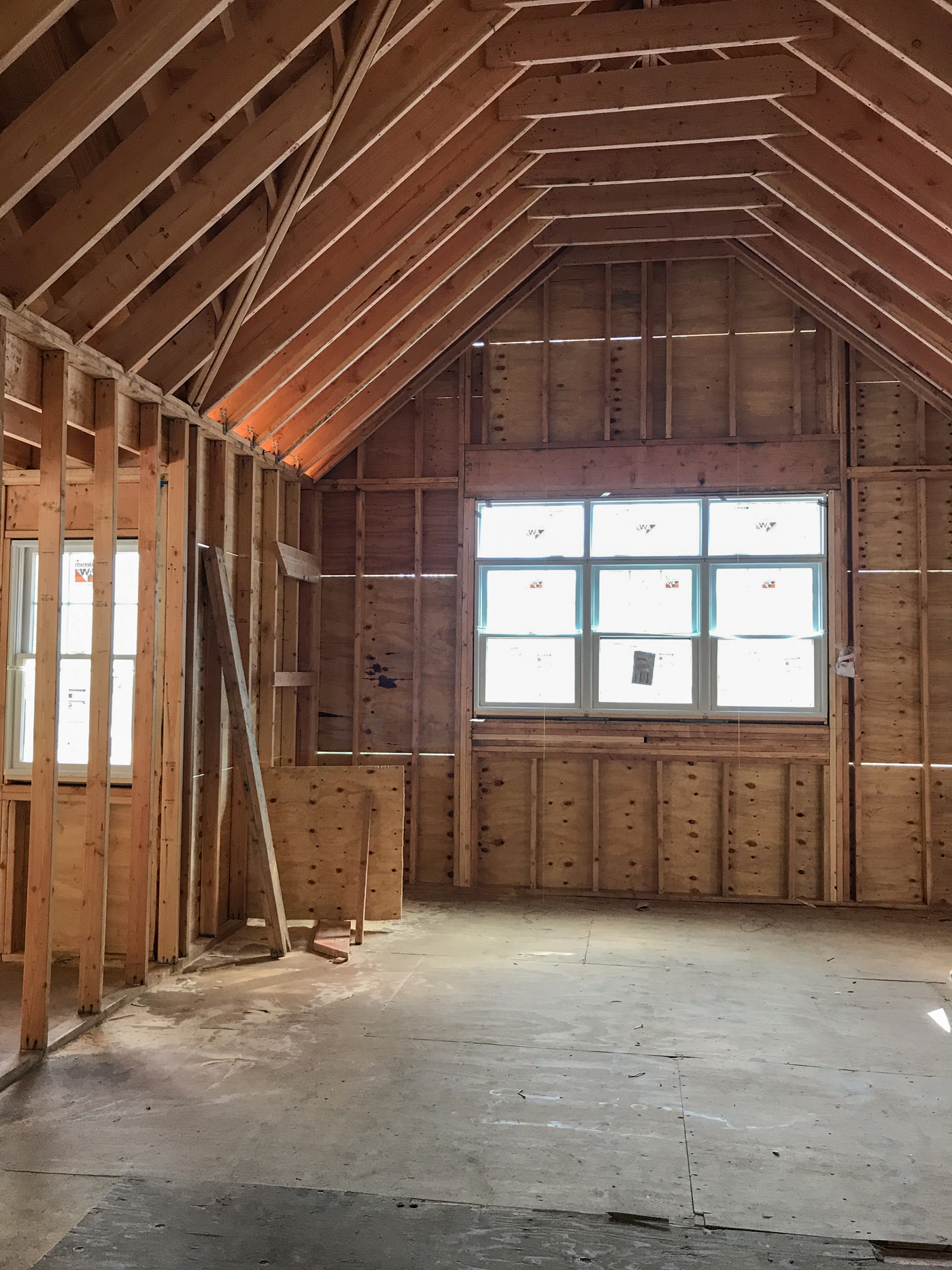 The infamous kitchen to-be! (above) Can't wait for this to be 100% complete!!!!!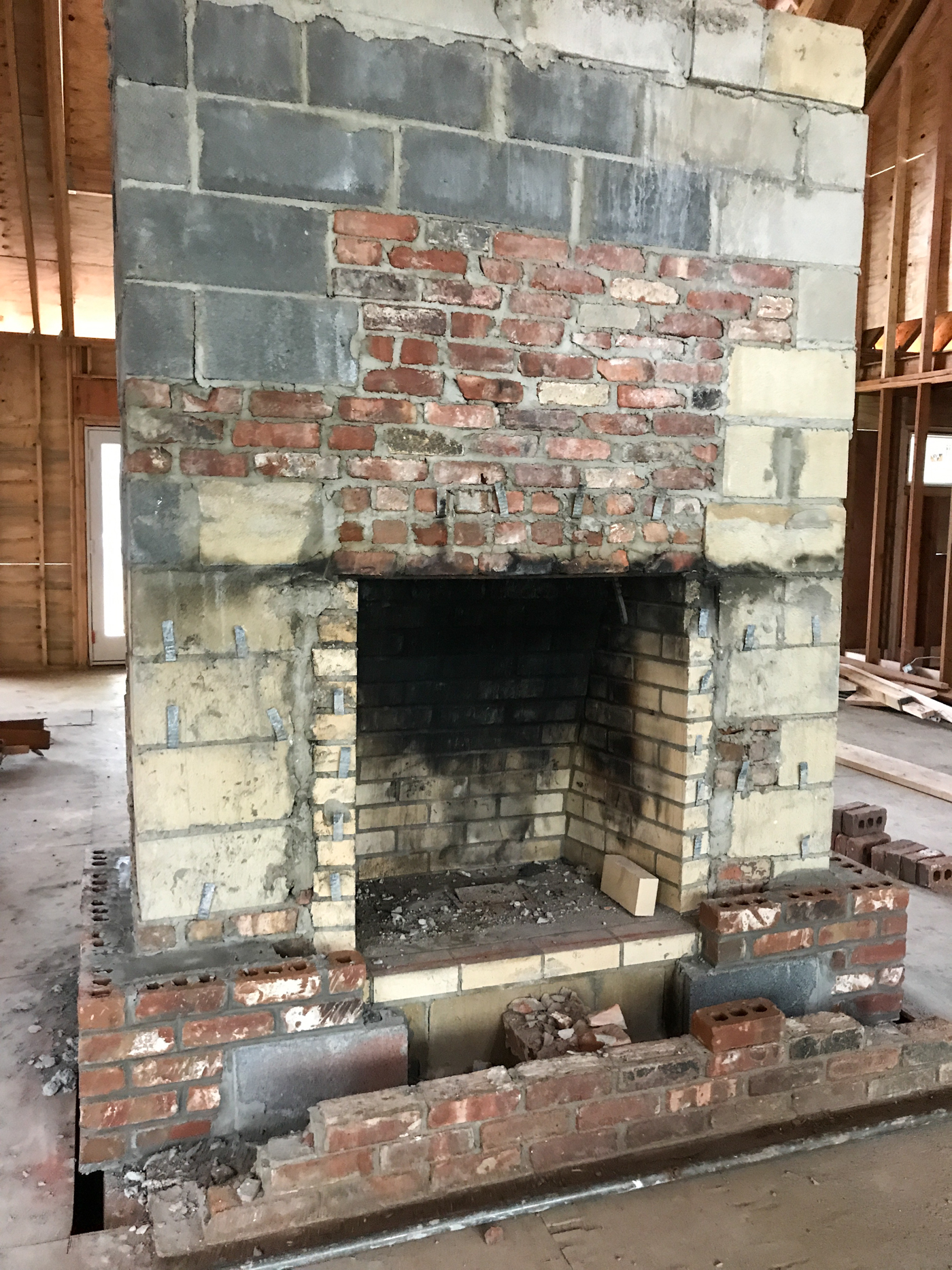 The beautiful new "used" brick is being applied to the fireplace! We will be building up the sides straight to the ceiling for an 'exposed' industrial look!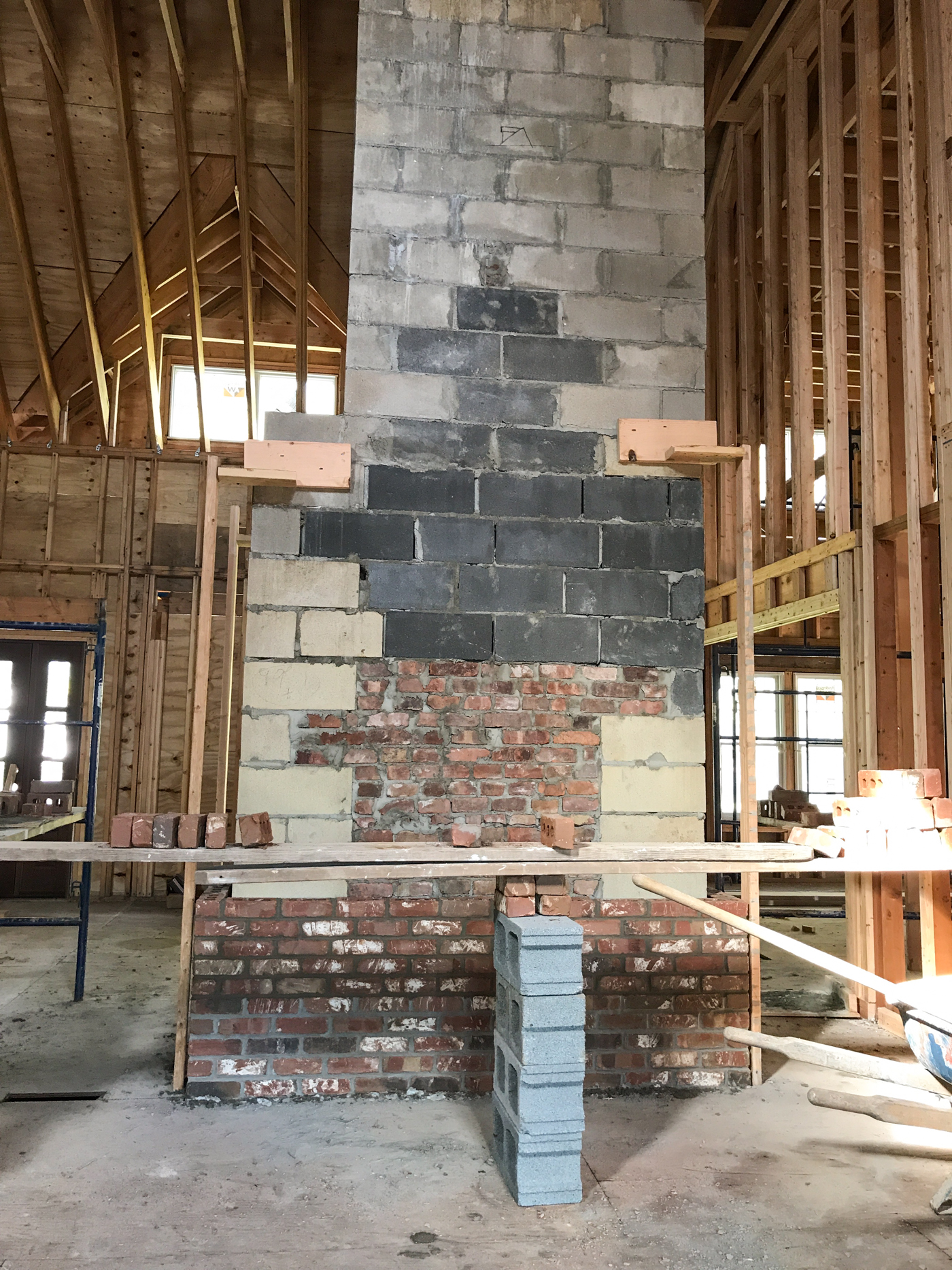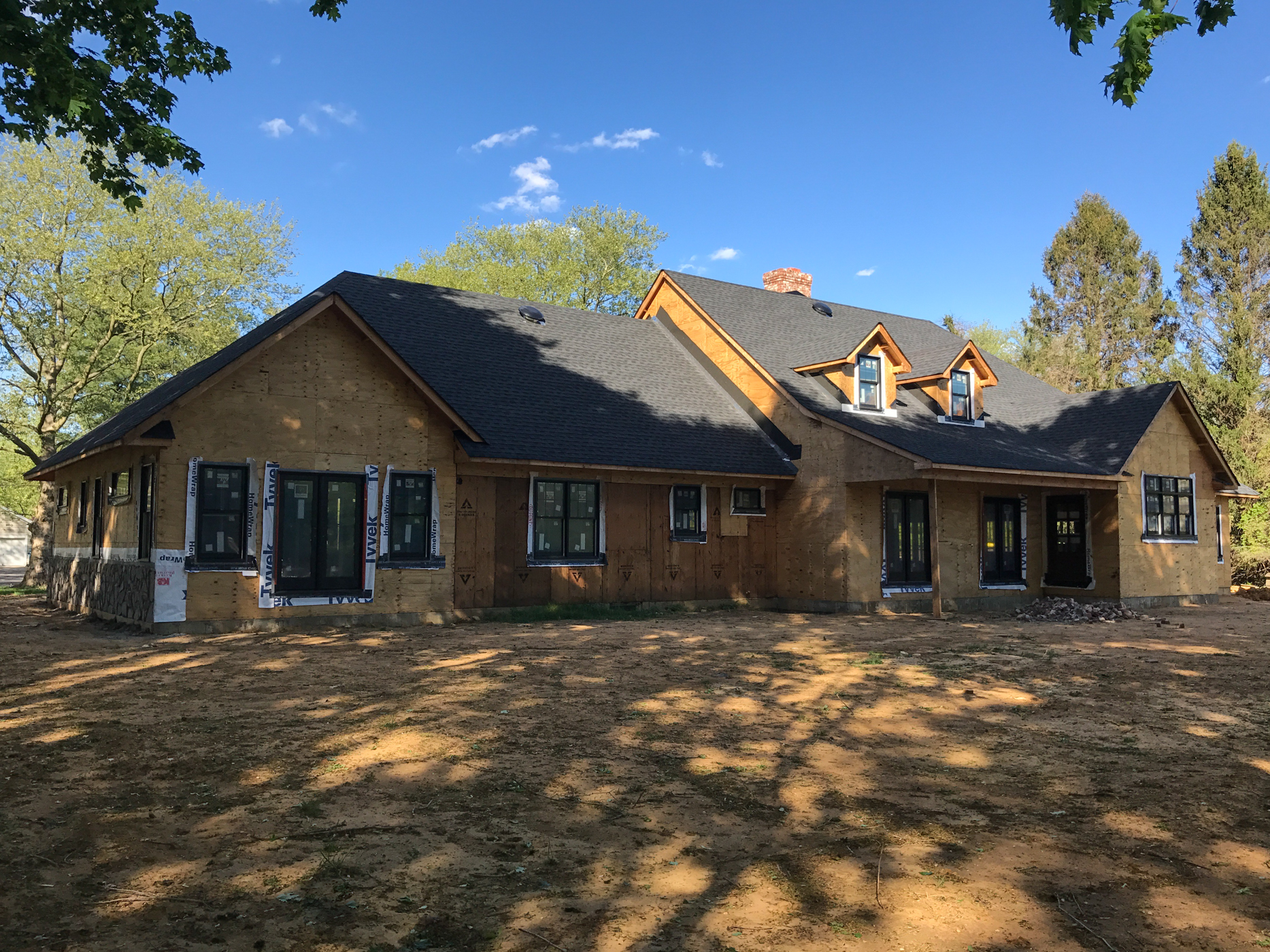 Our front door compliments the brick and stone!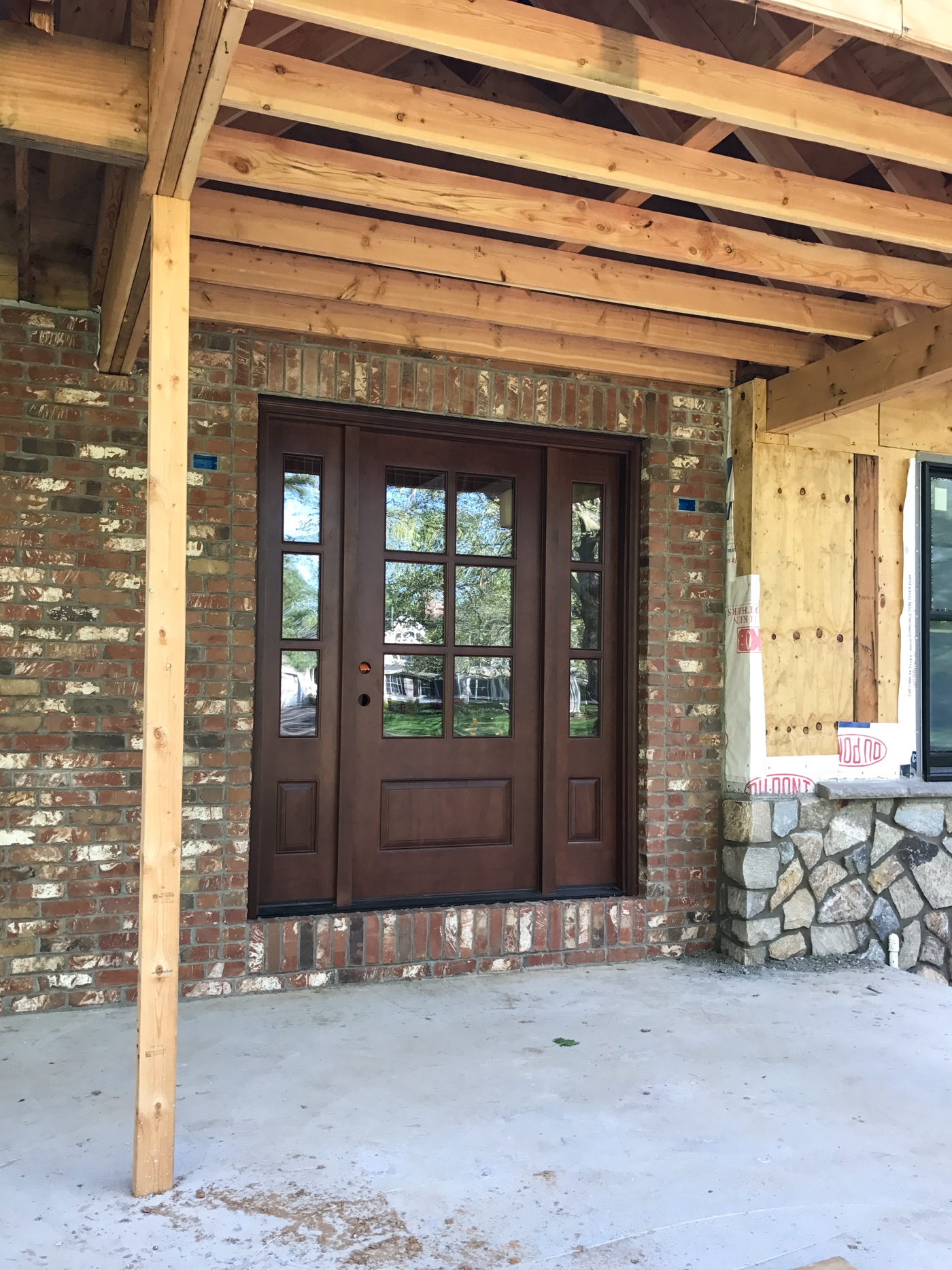 I swear it's the same house……… 🙂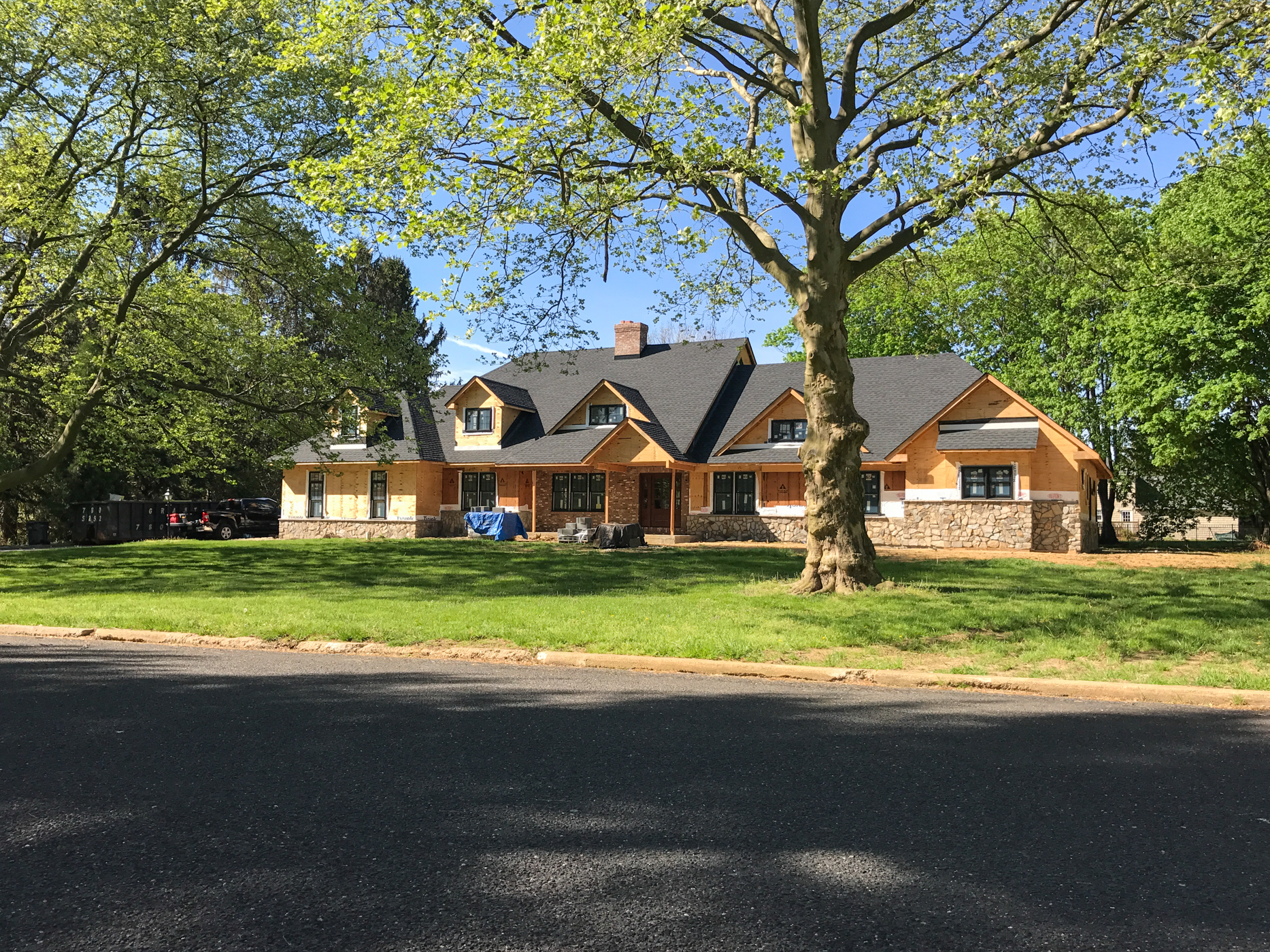 Photo above taken: 5/4/2017