Yay! We moved into our home! It has been a whirlwind of a year working on our home, and the day has finally come! It took a bit longer than we wanted, or expected. But, it feels so good to be in, especially for the up-coming holidays! (New post coming soon for our newest 'Home Update') 
We decided we would host our first official holiday in our new home, Thanksgiving! With it being less than 1 week away, I will be sharing some tips on first-time hosting (even if you're a Thanksgiving Day veteran, you may find new ideas from these tips) from appetizers to dessert and everything in-between!
Looking to host your first Thanksgiving like I am this year? Williams-Sonoma has first-time tips for us newbies! First Time Thanksgiving Tips from Williams-Sonoma Taste Some expert Thanksgiving pros also could use some tips Expert Thanksgiving Tips and Timeline
I'll be honest, it can be a bit over whelming to host a holiday like Thanksgiving. Turkey is expected, even a ham is usually required on the dinner table. Preparing all those side dishes, it's easy to fall short of those pairings. Of course we feel overwhelmed! But these tips and tricks are sure to help those who are just as 'new' to the Thanksgiving hosting as I am!
First things first! Make a list… From appetizers & drinks to dessert & gifts! (yes, I said gifts) It's easier to organize your day with a list. Plan ahead, prepare ahead, less hassle the day of. Most side dish recipes can be made a day or two in advance.
Here are some appetizers to kick off the Thanksgiving feast! You're sure to find a few your guests will love! These Marinated Olives with Orange and Chile are to die for!
Ingredients:
1/2 cup (4 fl. oz./125 ml) extra-virgin olive oil
2 Tbs. sherry vinegar
1 orange, thinly sliced into rounds
2 dried red chiles, or 1 tsp. red pepper flakes
2 cups (8 oz./250 g) black or green Spanish olives
Directions:
In a sauté pan over medium-low heat, combine the olive oil, vinegar, orange slices and whole chiles or red pepper flakes. Slowly bring to a simmer. Add the olives, reduce the heat to low and simmer for 15 minutes to allow the flavors to blend.
To serve, using a slotted spoon, remove the olives, orange slices and chiles from the oil and transfer to a serving dish. Serve warm. Serves 6.
Debating on trying  a different stuffing recipe this year? Check out these Awesome Stuffing Recipes by Williams-Sonoma Taste
Looking for some new Thanksgiving day side dish recipes like these Brussel Sprouts with Cheddar Polenta? This favorite Autumn vegetable combined with creamy cheesy polenta will have guests wanting more and more! (every year)
Of course everyone wants a fresh homemade cranberry sauce! Perfect for that warm turkey or even to go with your favorite sausage stuffing! Our Cranberry Orange Sauce is a must, and crowd favorite!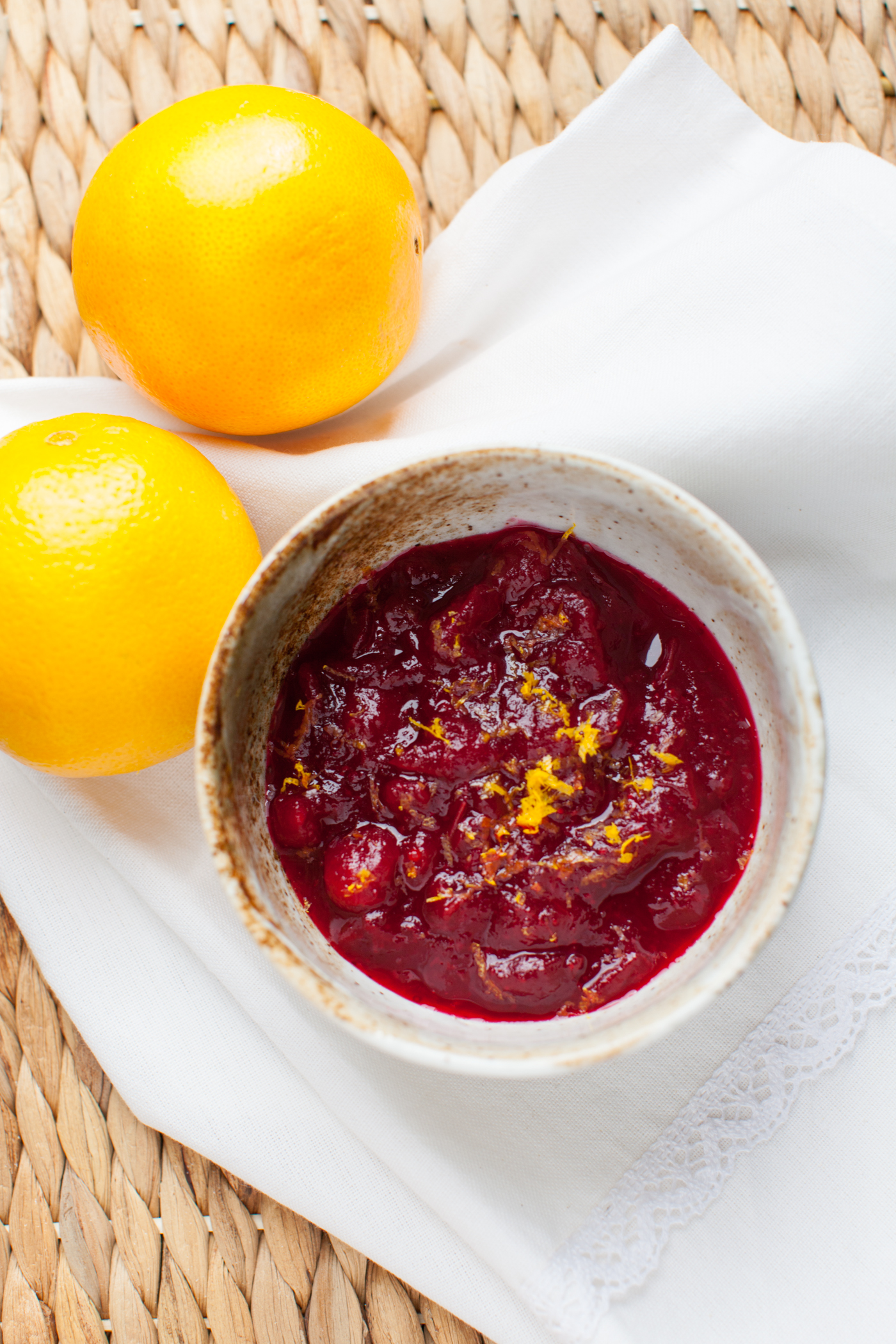 Last but not least, Thanksgiving dessert! Thinking of trying a family kept recipe? Someone has apple or pecan pie on their mind? Or maybe you want to try a new recipe, something new! Whether it's a classic or not, you're sure to find a Thanksgiving Dessert everyone will love! This chocolate mousse with olive oil looks delectable!
Chocolate Mousse with Olive Oil
6 oz. (170 g) bittersweet chocolate, finely chopped
3 egg yolks, plus 2 egg whites
1/4 cup (60 ml) extra-virgin olive oil
3 Tbs. warm water
1/4 tsp. fine sea salt
1/8 tsp. cream of tartar
1/4 cup (2 oz./50 g) granulated sugar
1/2 cup (125 ml) heavy cream
2 tsp. confectioners' sugar
Chocolate shavings for serving (optional)
In a heatproof bowl set over, but not touching, a saucepan of barely simmering water, stir the chocolate until melted and smooth. (Alternatively, melt it in a microwave.) Remove from the heat and let cool slightly, then whisk in the egg yolks, olive oil, warm water and salt until well blended.
In a separate, clean bowl, using an electric mixer set on medium-high speed, beat together the egg whites and the cream of tartar until frothy. Add the granulated sugar and beat until soft peaks form. Fold about one-third of the egg-white mixture into the chocolate mixture until no white streaks remain. Gently fold in the remaining egg-white mixture until well incorporated.
Evenly divide the mousse among 4 to 6 dessert cups or wineglasses, cover and refrigerate until well chilled, at least 4 hours or up to overnight.
In a bowl, combine the cream and confectioners' sugar and beat with a balloon whisk until medium-stiff peaks form. Spoon an equal amount of the whipped cream on top of each bowl and sprinkle with chocolate shavings, if you like. Serve immediately. Serves 4 to 6.
Attending Thanksgiving dinner somewhere and thinking of gifting the host or hostess? How about gifting your guests? Here are some wonderful ideas by Williams-Sonoma for showing how much you appreciate those who shared the holiday of giving with you!